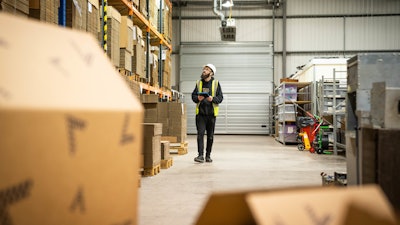 EU Automation
The early 21st century has seen global supply chain disruption on an unprecedented scale. The recent pandemic may have abated, but its aftershocks are still being felt by manufacturers and industrial automation engineers around the world. Microchip shortages and skills shortfalls are now being compounded by rising energy costs and soaring inflation. Geopolitics is leading to more complex trading conditions and tariffs. In addition, the rapid evolution of disruptive new technologies like Artificial Intelligence (AI) is accelerating component obsolescence.
What is the role of supply chain management?
For businesses to thrive in such challenging conditions, it is essential to have a supply chain that is sufficiently robust and agile enough to weather the storms of market adversity and respond to new opportunities. Supply chain management is essentially about managing risk. It relies on lifecycle forecasting to identify the impact of failure or obsolescence on the business. Identifying risks allows you to develop planned, preventative actions for when parts, spares and software fail or become obsolete.
What are the consequences of poor supply chain management?
The inability to source and replace critical parts efficiently results in loss of production capacity, a significant increase in lifecycle costs, reduced credibility with customers, lower profitability, and loss of reputation.
By contrast, a company that has a robust supply chain management strategy in place is likely to have a preventative maintenance plan that guarantees minimal downtime, ready access to a stock of parts requiring frequent replacement, and the ability to offer its customers guarantees around availability and delivery times, which gives it a competitive edge.
What are the fundamentals of good supply chain management?
Know your strengths and weaknesses. Take the time to assess your systems and predict what components may need replacing, and when. And what about your people? If your supply chain manager was off sick or left the company, what impact would that have on the business?
Have a plan to manage the risks. Planning ahead rather than reacting to failures gives you a competitive advantage over around three quarters of your rivals!
Use suppliers you can trust. Suppliers with a proven track record of supporting products are the bedrock of good supply chain management. It also helps to avoid fitting sub-standard parts, whose poor quality could lead to more unplanned downtime.
Do I have the capacity to develop my own supply chain strategy?
Supply chain management involves a multi-disciplinary approach and requires considerable time to get right, so be sure you have what it takes.
Can you develop your own dedicated global network of credible, verified suppliers? And can you do that for every manufacturer group you'll ever need today and in the future?
Do you have in-house experts in the fields of legislation, electrical compatibility, import and export documentation and international certifications, as well as those working on the logistics and maintenance side, to cover all supply chain aspects?
If your machines are older, do you also need a dedicated Obsolescence Manager to track down and secure parts that are no longer available?
Can you continuously maintain up-to-date records of all your components and where to source them?
Also, be aware that the price of failure can be very high. In addition to the ongoing cost of supporting an internal supply chain function, calculate the likely cost in lost production, in the wages of employees sitting idle and lost reputation with customers if your supply chain processes should fail before making your decision.
If you have all the expertise and resources available, then proceed to build and manage your own supply chain. For those businesses who find that on balance internal supply chain management is not feasible there is the option to outsource the function to an external specialist.
What are the benefits of working with an external supply chain partner?
External specialists like EU Automation support businesses by acting as their supply chain management function. For example, as a global distributor of automation parts we specialize in the procurement of essential and scarce components through a global supply network of more than 100 parts manufacturers. We use our expert knowledge and extensive procurement contacts to source and deliver the parts our customers need in order to minimize disruption and keep their production lines running.
We recently helped an Australian pharmaceutical customer to track down a critical but obsolete central processing unit. He travelled by airplane to our Frankfurt hub to collect it. While in transit, he was told a second unit had failed. We managed to source a second unit too and had both ready to hand over when he arrived. We also helped to arrange his accommodation and return flight. His business was up and running again 72 hours later, saving thousands of dollars.
External supply chain partners can also add value by anticipating wider threats and opportunities. For example, cybersecurity is a growing concern. The UK government famously banned Huawei from its 5G network development due to supply chain and security issues. As manufacturing becomes more connected, new risks arise. EU Automation helps businesses keep their hardware and software up to date to minimize the risk of cyber-attacks. We have robust systems in place for traceability: so our customers can be confident that they are sourcing quality parts with full warranties, minimizing risk.
Sustainability is also growing in importance. The traditional linear approach of make, use and dispose is no longer acceptable, so businesses need to find ways they can demonstrably support a circular economy. Supply chain management can make a significant contribution. When an industrial plant closes, it contains hundreds, if not thousands, of useful working parts: some of which are no longer manufactured. As part of our own commitment to recycle and reuse, we provide a way for businesses to access and purchase these parts once they've been reconditioned, extending the lifecycle of their machines and reducing waste.
What is the future of supply chain management?
The uncertainties that have disrupted supply chains in recent years will take time to dissipate, but manufacturers can expect to see a return to proven just-in-time methods for general wear and tear parts soon, with only critical spares being held on site. In future, it is likely that the rate of obsolescence will accelerate, driven by rapid developments in connective technologies. This may also lead to an increase in supply chain outsourcing to take advantage of the agility, resources and expertise inherent in companies dedicated to the task.
EU Automation is well-placed to support businesses through any supply chain challenges. We have a dedicated database of globally available stock (new, second-hand and scarce), together with the latest pricing information and lead-in times. Customers can access the parts they require via our committed team of account managers, who provide efficient local support in the relevant native language. Together, our global supply network and local support offices give reassurance that, if the unexpected does occur, we have the people and the processes in place to source the part you need to keep your business running.
Neil Ballinger is head of global operations at EU Automation.