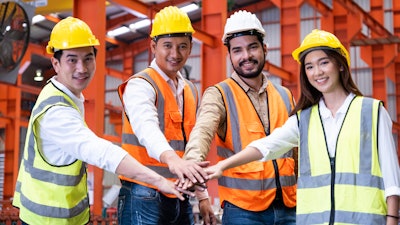 iStock
An emphasis on supplier diversity programs has gained traction in recent years as key benefits become apparent for companies across all industries.
For one, supplier diversity initiatives tend to drive value by encouraging companies to evaluate new avenues and incorporate new ideas and perspectives. Secondly, a supplier diversity strategy can offer a way to expand a supply base, adding resiliency and reducing risk.
As applied to these types of initiatives, a "diverse" supplier is commonly considered to be one that is owned by a minority, woman or veteran; a person who is disabled; or one who identifies as LGBTQ.
Recently, supplier.io, a provider of supplier diversity data, software and management solutions, published the results of a survey in which it assessed how companies manage their diverse supplier spending and prioritize diversity programs in an effort to drive business growth.
The resulting 2022 State of Supplier Diversity Report suggests that although supplier diversity is being added to the strategic goals of more and more suppliers, challenges abound.
Diversity Initiatives Gain Interest, Lack Detailed Tracking
According to supplier.io's survey results, 61% of CEOs are engaged with supplier diversity – representing a high water mark for the survey – however, their interest doesn't speak to the level at which it is being tracked and prioritized.
Aylin Basom, CEO of supplier.io, told ID that the company's research shows "clear foundational elements that teams must address to improve their supplier diversity, each of which should happen concurrently."
Supplier.io's report revealed that the majority of respondents (93%) believe that engaging with diverse suppliers has a positive impact on their company internally and externally. This represents a 15% jump from those who said the same in 2021. To boot, more than half believe the impact has been significant.
But for all the enthusiasm, supplier.io pointed to data revealing that only 38% of respondents include supplier diversity metrics in management's performance objectives – a figure they believe is a red flag signaling low accountability.

For others, challenges related to a lack of clearly defined supplier diversity goals, which applies to 32% of respondents, and a lack of a spend reporting platform for 19%. In fact, 24% of those who seek out diversity actually had no formal supplier diversity program in place – making it difficult to set goals and track their success.
Leveraging Positive Changes for Greater Impact
Basom believes that companies who are looking at improving their process need an accurate view of where they are today in order to understand where to focus their efforts.
"This requires them to adopt a solution or system to continuously measure their total diverse supplier count, spend with diverse suppliers, total portion of their budget going to diverse suppliers, and other indicators of program success," Basom said.
Basom added that companies should then compare these results with peers to benchmark their success and define target goals.
"It helps to identify specific target areas where they can grow their diverse spend, such as specific commodity areas or categories that align with their company's strategy and objectives," she said. "Pivot these goals if new opportunities or challenges arise."
While 61% of respondents admit that funneling adequate staff to supplier diversity initiatives is a major challenge, supplier.io believes that engagement of everyone on the buy side – and depth of the program's "champions" – must increase to achieve significant change. Basom believes there are ways to approach this through empowering employees to drive meaningful results. For this to occur, there must be a dedicated approach that permeates the organization "by detailing the company's supplier diversity commitment and training the team on ways to source and engage with diverse suppliers."
Adds Basom, "Training is an immediate opportunity for many organizations. Every small step can lead to big changes, but it starts with measuring your current progress, setting a clear plan to achieve change, and instilling this importance across the company."
For a full copy of supplier.io's report visit https://www.supplier.io/2022-state-of-supplier-diversity.