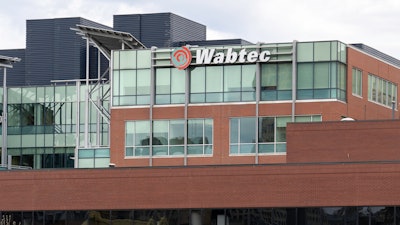 iStock
ERIE, Pa. (AP) — Contract negotiations between the country's largest locomotive manufacturer and its striking union workers continued in Erie on Thursday, nearly two months after some 1,400 people walked off the job.
Brenton Davis, the Republican elected Erie County executive, said this week he was concerned Wabtec may be considering a plant closure and outsourcing of its operations.
Scott Slawson, president of Local 506 of the United Electrical, Radio & Machine Workers of America, said a potential plant closure was not discussed during talks Thursday he described as productive.
"We actually made some positive progress today," Slawson said. "Both sides left knowing we had some homework to do and we're going to be meeting again next week."
Wabtec spokesperson Tim Bader declined to comment on Davis' remarks but said in a statement that the Erie plant "has been a laggard in terms of cost and efficiency for years, as compared to other Wabtec sites and suppliers." He said Wabtec has proposed $41 million in wage improvements and wants changes in the contract's right-to-strike terms.
"In this current climate, the company is being forced to consider difficult decisions to continue supporting its customers and deliver on its commitments," Bader said.
Slawson said sticking points during contract talks have been how the company has responded to union grievances, wages for new hires and health care costs. The strike began June 22.
The company says it does not want to alter a wage system for new hires it says "is clearly working." The union agreed in 2019 to a two-tier wage system that allows the company to pay new hires less money.
Davis, the county executive, said in a phone interview Thursday a loss of the plant would devastate the local economy.
"I've just simply called for good faith negotiations and encouraged them to come to the table and come to a deal that they deem is fair," Davis said. "I don't have a dog in that particular hunt on where they need to land."
Pittsburgh-based Wabtec acquired the plant and the rest of General Electric Transportation in February 2019. A facility in Fort Worth, Texas, is the company's primary locomotive manufacturing plant in the U.S. Wabtec was formerly known as the Westinghouse Airbrakes Technologies Corp.
Strikes and labor unrest have occurred in numerous spots around the United States this summer, in industries ranging from Hollywood actors and writers to delivery drivers and city employees and airline pilots. More and more, employees are feeling overworked and underpaid as companies seek to appease customer expectations for speed and convenience made worse by the COVID-19 pandemic.
Wages that unions contend have fallen behind, in part because of inflation, have been central in negotiations, for example between the Teamsters union and UPS, and between the United Auto Workers and U.S. automakers.