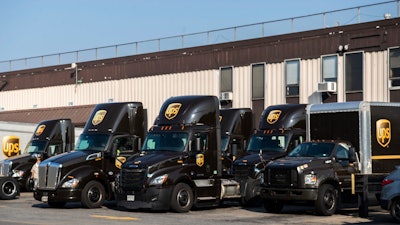 AP Photo/Brittainy Newman, File
Revenue declined at UPS in the second quarter and the package delivery company lowered its full-year revenue expectations by $4 billion as package volumes decline, and after reaching a tentative labor contract reached late last month with its 340,000 unionized workers.
Package volume has been in decline for all shippers and fell significantly for UPS during the quarter. Shares for the Atlanta company slid about 5% before the opening bell Tuesday.
Domestic revenue slid 6.9% during the quarter as average daily package volume fell 9.9%. The company offset that decline somewhat, however, booking a 3.3% increase in revenue per piece.
UPS reached a tentative deal with the International Brotherhood of Teamsters, potentially averting a strike that threatened to disrupt package deliveries for millions of businesses and households nationwide.
Under the agreement, which still needs to be approved by union members, full- and part-time union workers will get $2.75 more per hour in 2023, and $7.50 more by the end of the five-year contract. The deal includes a provision to increase starting pay for part-time workers — whom the union says are the most at risk of exploitation — from $16.20 per hour to $21 per hour. The average pay for part-timers had been $20.
Voting on the new contract begins Aug. 3 and concludes Aug. 22.
United Parcel Service Inc. earned $2.08 billion, or $2.42 per share, for the three months ended June 30.
Adjusted earnings were $2.54 per share, which beat the $2.51 per share that analysts surveyed by Zacks Investment Research were looking for.
Revenue declined to $22.06 billion from $24.77 billion, missing Wall Street's estimate of $22.88 billion.
Revenue for the domestic and international segments fell as average daily volume dropped.
UPS said that it now foresees 2023 consolidated revenue of about $93 billion. Its prior forecast was for revenue of around $97 billion.
Analysts polled by FactSet expect $96.45 billion.