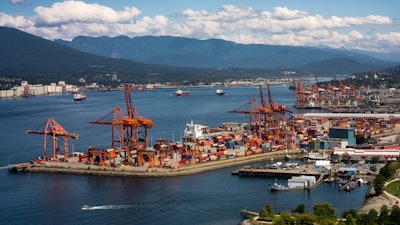 iStock
VANCOUVER, British Columbia (AP) — British Columbia's port workers voted almost 75% in favor of a contract offer, ending weeks of turbulent job action that stopped billions of dollars' worth of goods from being shipped in Canada.
In a statement on the International Longshore and Warehouse Union Canada website late Friday, president Rob Ashton confirmed the result. The dispute had shut down ports on Canada's west coast last month for nearly two weeks and spurred several business groups and political leaders to call for back-to-work legislation.
Federal Labor Minister Seamus O'Regan tweeted that both the ILWU and the BC Maritime Employers Association ratified the deal, ending the dispute. O'Regan said, however, that he is directing federal officials to review the entire case to avoid a port disruption of this magnitude from happening in the future.
The employers association said in a statement that it ratified the four-year deal, which "includes increases in wages, benefits and training that recognizes the skills and efforts of B.C.'s waterfront workforce."
The approval of the contract, which covers about 7,400 workers, comes after the union rejected a mediated settlement twice in July — once through the group's leadership caucus, another by full membership.