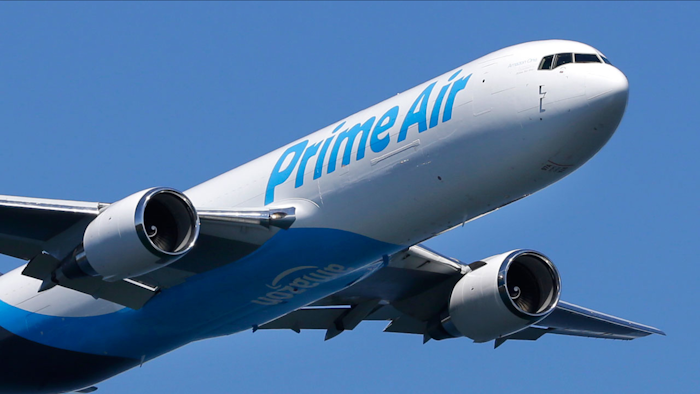 At this moment, most of the attention on Amazon centers on salacious details drawn from the personal life of its founder and CEO, Jeff Bezos, or maybe the multimillion dollar lawsuit filed against the company by an award-winning filmmaker. A more significant—and yet somewhat overlooked—development in the Amazon saga took place this week, entered casually into the company's most recent SEC annual filing. After years of denying it was interested in such a move, Amazon officially declared it's in the transportation and logistics business.
In detailing risk factors, Amazon included transportation and logistics as one of its competitive industries for the first time.
"Our businesses are rapidly evolving and intensely competitive, and we have many competitors in different industries, including physical, e-commerce, and omnichannel retail, e-commerce services, digital content and electronic devices, web and infrastructure computing services, and transportation and logistics services, and across geographies, including cross-border competition," the company wrote.
As CNBC points out, the language was identical to that used in Amazon's quarterly report issued in September, except for the addition of transportation and logistics services.
In a recent conference call to elaborate on the latest quarterly earnings report, Amazon leaders discussed how their approach to transportation and logistics is evolving.
"Again, we have great partners in place for our business and support globally, what we do is add capacity where we feel we need to speed up service or ensure demand, particularly at peak," said David Fildes, Amazon's director of investor relations. "So we will continue to build out our DSP and flex and chip with Amazon programs. So during the quarter, it was a much bigger presence obviously year-over-year, so we're happy with that, both from a performance standpoint, the delivery estimate accuracy as we call it was very strong on our self-delivered products and also the cost profile is very good as well."
In recent months, Amazon Air notably struck a deal to lease 10 additional planes for its growing fleet of cargo aircraft, stirring chatter about the company taking a more expansive role in the delivery portion of its business. And the new SEC filing has revived speculation that Amazon might make a run at purchasing FedEx.
"If Amazon gets very serious about not only taking care of all their log deliveries business, but really making this a real business for third parties, then I think the likelihood becomes quite high," market research analyst Anthony Chukumba told WATN-TV.
Main image credit: AP Photo/Ted S. Warren