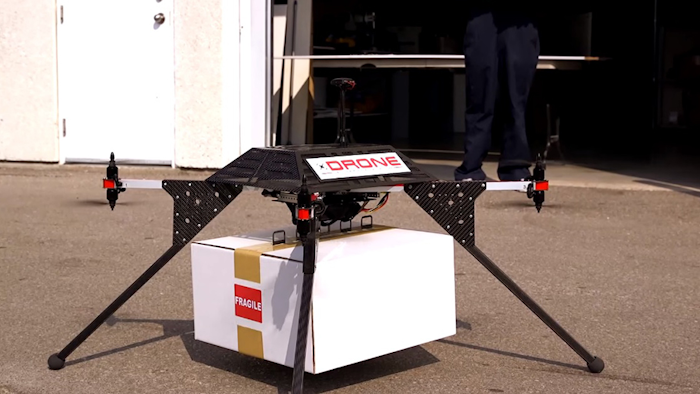 Drone Delivery Canada announced last week that it has partnered with plumbing and HVAC distributor Wolseley Canada to collaborate on a potential drone delivery solutions to expand Wolseley's distribution capabilities.
DDC said that using its platform, the collaboration will involve developing, prototyping and testing a customized depot-to-depot solution and depot-to-customer solution in Wolseley Canada's supply chain. If the development and testing go well, both parties intend to negotiate a definitive partnership agreement once government legislation is enacted, with that timeframe estimated to be between Q4 of this year and Q1 of 2018. DDC will cover its own costs and expenses for development and testing.
"We believe that we are the only drone delivery company in Canada to successfully achieve Beyond Visual Line of Sight testing and are very pleased to announce this agreement with Wolseley Canada, one of the leading plumbing and HVAC/R distributors in Canada," DDC CEO Tony Di Benedetto said. "As drone payloads increase, we think drone deliveries will radically improve on-time delivery."
The flying drone delivery market has been discussed at length in several industries, either about current applications or the technology's potential. Walmart is already using them in its warehouses. Amazon seems to be constantly getting patents for drone delivery systems that seem outlandish. It completed its first retail drone delivery last December. UPS is testing delivery drones as well.
But not much has been said about its potential with industrial products. As far as I can tell, DDC and Wolseley Canada's partnership is the first I've seen involving an industrial distributor or supplier. Most of Wolseley Canada's HVAC products are for the residential or commercial markets, but the company also distributes waterworks, fire protection, piping, valves, fittings and general industrial products. While flying drone delivery doesn't seem to make much sense for bulk requests — most drones have a package weight limit of 5-10 pounds — using them to deliver small valves or fittings, indexable cutting tools, PPE products or other MRO supplies certainly seems feasible.
As mentioned above, DDC and Wolseley Canada will have some regulatory hurdles to clear before such a delivery system can be put to use. But given the Q4 2017 to Q1 2018 timeframe they stated, it appears they expect approval. In the U.S., regulatory approval of commercial drone delivery isn't expected until at least 2020, at which time which its impact on the drone delivery market would first be felt.
But even if approval does take that long, it could certainly be lucrative for distributors to at least get a foot in the drone delivery door now.
Wolseley Canada (www.wolseleyinc.ca) is a market leader in the wholesale distribution of plumbing, heating, ventilation, air conditioning, refrigeration, waterworks, fire protection, pipes, valves and fittings and industrial products. With its head office in Burlington, Ontario, the company has approximately 2,500 employees and 220 locations coast-to-coast. Wolseley's team of sales and service specialists, an industry-leading e-business platform, and relationships with the best vendors and brands in the business, make Wolseley the professional's choice across the country. Wolseley is also committed to being a good corporate citizen, while building and sustaining valuable community partnerships. Since 2004 Wolseley has been a national sponsor of Special Olympics Canada, and has donated more than $3.1 million through corporate sponsorship and employee fundraising. Wolseley is also an active supporter of Habitat for Humanity.
Wolseley Canada's parent company, Ferguson plc (www.fergusonplc.com) is the world's largest trade distributor of plumbing and heating products and a leading supplier of building materials. Ferguson plc is listed on the London Stock Exchange (LSE: FERG) and on the FTSE 100 index of listed companies.
For more information, please visit www.dronedeliverycanada.com
About Drone Delivery Canada
Drone Delivery Canada is a drone technology company based out of Vaughan, Ontario focused on the design, development and implementation of a commercial drone logistics platform for government and corporate organizations.  Drone Delivery Canada Corp. is a publicly listed company trading on the Canadian Securities Exchange under the symbol FLT and on the OTCQB Venture Market in the United States under the symbol TAKOF.