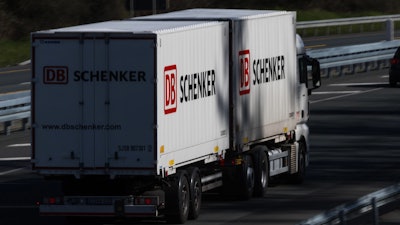 iStock
Land transport industries worldwide have experienced rapid evolutions over the last several years. But with every disruption, especially ones with a global impact like the COVID-19 pandemic, there are opportunities for organizations to learn and grow.
Although most industries are still trying to dust themselves off after the pandemic struck, there have been various new developments in land transport. In fact, while other industries have seen major declines since 2019, the road transport market size is on target to grow to over $130 billion over the next five years.
This sizable shift will only lead to more opportunities in the future for freight and logistics companies to maximize their operational efficiency and begin to maximize areas of growth.
What's Driving Market Growth?
Since the peak of the global pandemic in 2020, the land transport industry has reported unprecedented growth. This has been happening primarily because of a significant surge in e-commerce buying habits. Quick demand spikes in inventory from overseas and through local fulfillment warehouses created a new, unprecedented demand spike that has put more pressure on transportation networks.
Parcel companies, LTL carriers, and even independent courier services have all needed to dramatically change how they operate in response to this global shift in demand.
New web-based business solutions and other progressive technological shifts have helped companies expedite their growth initiatives and maximize their revenue capabilities.
By investing in these new solutions, organizations have been able to communicate better with their partners while also taking advantage of powerful data analytics tools that give more insights into how they can improve their operations.
While the world continues to watch the e-commerce trend grow, there is more pressure for transportation providers to continuously find ways to increase the speed of their services while providing more economical shipping solutions to their customers.
Thankfully, with autonomous vehicles and drone deliveries on the horizon, the future is looking bright for organizations willing to invest in disruptive technologies that will continue to evolve the logistics landscape.
Trends Influencing the Market
With every advancement in technology, organizations often have opportunities to disrupt their respective industries. Land transportation is no exception to this as of late. For example, IoT (Internet of Things) platforms have revolutionized how freight companies monitor and improve their performance with the help of real-time freight tracking and route optimization capabilities.
At the same time, AI-driven technology has caused a major shift in how businesses approach their decision-making process. With near-limitless applications, AI can be used in various business formats to take away time-consuming and menial tasks, streamlining multiple business processes and operational components.
The environment has also been a sensitive topic for several years in the freight industry. But rather than shying away from the global responsibility that every organization should have, freight companies have the opportunity to make a real positive impact.
Land transport companies can reduce their carbon footprints and contribute to a healthier planet for everyone by optimizing their supply chains and introducing more sustainable technologies and business practices.
New Challenges That Need to Be Addressed
Although there are apparent opportunities that have been presented to land transport companies, there are still a variety of challenges that need to be addressed.
These challenges include:
Rising Fuel Prices: The cost of fuel has continued to put pressure on the profitability of freight companies - and it doesn't appear to be leveling off any time soon. To offset this additional spending, organizations should look for more economical ways to manage their fleets, including investing in eco-friendly vehicles and more efficient route planning.
Fluctuations in Global Pricing: The cost of goods has increased substantially in the last few years. With supply and demand peaks and valleys off the charts, it has been hard for transportation companies to catch up with new trends and accurately forecast seasonality and consumer expectations. Freight companies are now needed to quickly adjust how they scale their operations and look for more ways to remain agile with changing marketing conditions.
Consumer Expectations for Delivery Costs and Lead Times: With customers now expecting delivery costs and lead times to be lower than ever, companies must find new ways to keep their prices competitive without compromising on quality.
Turning Industry Challenges into New Opportunities
As the land transport industry faces various challenges, it is important for companies to proactively seek and capitalize on new opportunities. Below are some ways manufacturers are addressing the obstacles they face:
Nearshoring is Becoming More Popular for Manufacturers
Nearshoring refers to the relocation of manufacturing from overseas locations to closer, neighboring areas. This trend is gaining popularity among manufacturers across the US who are looking to reduce transportation costs, minimize lead times, and improve supply chain flexibility.
By bringing production closer to their end markets, businesses can avoid the lengthy wait times and disruptions inherent in transportation and logistics, thereby enhancing their speed to market.
In addition to reducing transportation costs, nearshoring to countries like Mexico and Canada also has other benefits, such as shorter lead times, lower manufacturing costs, and a reduction in time zone differences that can contribute to delays. These benefits are often combined with reduced tariff implications or added costs associated with customs and duties.
Customs Brokerage Services Are Simplifying Cross-Border Shipments
While nearshoring is one way to help optimize spending, companies also need to address the challenges of cross-border logistics, which can be complex and time-consuming. This is where customs brokerage services come in. By hiring customs brokers with local regulatory and customs procedures expertise, manufacturers and shippers can simplify the complex process of cross-border shipments.
Customs brokerage services include border crossing optimization, regulation-compliant paperwork management, and streamlined interactions with on-the-ground customs personnel at borders and ports. With these services, manufacturers and shippers can gain efficiencies in their operations while ensuring compliance in all areas.
Real-Time Freight Rate Comparisons Reduce Spending
In addition to customs brokerage services, real-time freight rate comparisons are another way the land transport industry can save on costs. By using innovative technologies, shippers can easily compare rates from multiple carriers, ensuring that they are getting the best deal possible.
Real-time rate comparisons also increase the transparency of supply chain costs. This enables businesses to make more informed decisions when allocating their transportation budgets.
Real-time rate comparisons save shippers time by eliminating the need for traditional rate negotiation processes. Instead, both established and new shippers can quickly gain visibility into transportation costs to help plan hauls more efficiently.
Another benefit of real-time rate comparisons is that they can help companies access capacity during peak or high-demand periods. By quickly comparing and selecting the best option, shippers can ensure reliable delivery, increasing customer satisfaction and improving their bottom line.
Start Making the Most of Land Transport Opportunities
There are several challenges that the land transport industry still faces as the years progress, but with those challenges come more opportunities for positive change. Investing in customers brokerage services, capitalizing on nearshoring opportunities, and investing in real-time freight comparison solutions are only just some of the ways businesses can streamline their processes while keeping their costs down.
By taking advantage of these strategies, companies in the land transport industry can make significant improvements to their operations and ensure timely delivery for customers at an affordable price. With careful planning and thoughtful execution, manufacturers and shippers alike can start making the most out of today's land transportation opportunities.
Joe Jaska is the head of land product for region Americas at DB Schenker.