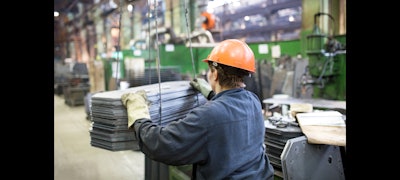 Middle market companies turned in another strong, high-growth performance, but concern over costs and supply chain shifts, predominantly driven by tariffs, is increasing among executives. Data from the 3Q 2018 Middle Market Indicator (MMI) released today by the National Center for the Middle Market (NCMM) reveals that the year-over-year growth rate jumped to 8.6 percent, up from 7.4 percent last quarter, and is the second highest average in the past three years.
Economic confidence bounced back from a dip it took last quarter, especially confidence in the global economy, which ticked up from 75 percent last quarter to 80 percent this quarter. National and local confidence remain at near-record highs at 88 percent and 93 percent respectively. Reflecting this confidence, 35 percent of middle market companies plan to expand into new domestic markets, while 41 percent expect to do so next year.
Amid this robust outlook, middle market executives agree by a two-to-one margin that tariffs will have a negative impact on their businesses. A third of the executives indicated profits will suffer; more than half will be raising prices. Companies in the core middle market – $50 to $100 million in annual revenue – are the hardest hit. In addition, business relationships may be strained; nearly half the companies in the wholesale, manufacturer, retail and construction industries say tariffs will cause them to seek new suppliers or renegotiate terms of existing contracts.
"It is clear that the prospect of trade war weighs heavily on companies that are big enough to participate in the global marketplace, but don't have the international operations that allow them to shift production from one side of a border to another," said NCMM Executive Director Thomas A. Stewart. "At the same time, however, economic confidence indicators show executives are still very bullish about their companies' prospects."
During the third quarter of 2018, hiring remained strong. Companies added jobs at a 6.4 percent annual rate, which is similar to year-ago levels. The vast majority of middle market companies (nearly 80 percent) believe their current workforce is in line with company needs but are seeking to add jobs in the areas of operations (69 percent) and IT (59 percent), with most positions being full-time employment.
Talent continues to lead the list of challenges facing middle market executives. Cost concerns dropped from 26 percent last quarter to 19 percent but are significantly higher than they were a year ago. Health care costs and rising wages are listed as key concerns going forward, along with concern about government policies and actions, which rose to 25 percent compared to 20 percent last quarter.
"While costs are a challenge to note for middle market companies this quarter, talent management and core business issues, like pricing and generational divisiveness are still major hurdles in the long and short-term," said NCMM Managing Director Doug Farren. "Executives are expressing less confidence about the business climate than they did a few months ago, and some of that appears to be because of the uncertainty or anxiety about government actions."