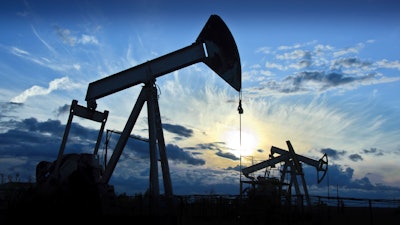 Oilfield services company Baker Hughes' weekly rig report released on Friday showed a big gain in U.S. oil rigs, as its count had its largest weekly increase — 19 — since July 2015 to a count of 471, its highest mark since Feb. 5 of this year. The active gas rig count increased by one last week to 116.
A year ago, 564 U.S. oil rigs were active — a 16.5 percent difference. That difference has been steadily shrinking over the past six months. The total U.S. oil, gas and miscellaneous rig count of 588 is down from 757 at this point last year — a 22.3 percent difference. The count has grown by 45.5 percent since bottoming out at 404 this past May.
Among top oil-and-gas producing states, Texas gained eight, Louisiana and Oklahoma each gained four, Ohio gained three, Colorado gained two and Utah gained one. North Dakota, Pennsylvania and Wyoming each lost one.
Canada gained eight total rigs to a count of 184, adding 11 oil and losing three gas. That count is up 10.8 percent from a year earlier.
Oil Price Update
WTI Crude oil opened Monday at $46.60, up $3.40 from a week earlier and a three-week high. Reports suggest that OPEC appears to be moving closer toward an output cut agreement when it meets next week in Vienna, Austria.