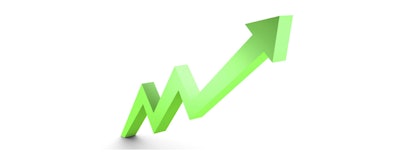 WASHINGTON (AP) — Americans spent with abandon this spring. Businesses invested in more buildings and equipment. And exports jumped. Combined, those factors drove economic growth in the April-June quarter to a 4.1 percent annual rate, the fastest pace in nearly four years.
A key question facing the economy is: Can its growth continue at such a pace?
Probably not. Some of the drivers of growth last quarter appeared to be one-time factors. Soybean exports jumped as farmers sought to beat impending tariffs overseas. And business spending was boosted by soaring investment in oil and gas drilling equipment, which might not last.
Other challenges also loom. Borrowing costs for homes, autos and credit cards are rising, lifted by the Federal Reserve's interest rate hikes. And rising prices have left average hourly pay, once adjusted for inflation, flat over the past 12 months.
But other trends do look sustainable and could help boost growth above the roughly 2 percent annual pace that's prevailed since the Great Recession ended. Revisions to government data show that consumers have been saving more than previously thought, giving them more room to spend. And with business and consumer demand strong, companies may rebuild their stockpiles of goods in warehouses and store shelves, adding to growth in the coming quarters.
That optimistic picture, though, hinges in part on whether the trade conflicts the Trump administration has pursued with major trading partners end up weakening the economy.
Here's a deeper look at economic trends and where they may be heading:
HEY, BIG SPENDERS
Americans spent more on cars, furniture and health care, among other items, lifting consumer spending at a 4 percent annual rate in the April-June quarter, the strongest quarterly pace in 3½ years.
The Trump administration's tax cuts and higher consumer optimism, fueled by steady hiring, likely helped drive the gain. The tax cuts provided a one-time lift to incomes, and so their impact on spending will probably prove temporary.
But the government also sharply revised up its estimate of the U.S. savings rate. In the first three months of the year, government data now shows that Americans saved 7.2 percent of their income, much higher than the previous estimate of just 3.3 percent. That means consumers are in better financial shape than previously thought and suggests that healthy spending could continue.
SOYBEAN SHIPMENTS SOAR
U.S. exports jumped in the second quarter, while imports barely increased. That narrowed the trade gap and meant that international trade contributed about one-quarter of the second quarter's growth.
President Donald Trump hailed the increase in remarks Friday at the White House and credited his trade policies. His policies did help, but in a way that's unlikely to be repeated: Farmers sped up their exports of soybeans to China, ahead of that country's imposition of tariffs that it imposed in retaliation for U.S. tariffs imposed by Trump.
As a result, soybean exports jumped 90 percent in May. Sharply higher agricultural exports made up nearly half the overall increase in overseas sales in the second quarter.
That's unlikely to be repeated. Most economists forecast that trade will drag on growth in the second half of this year.
BUSINESSES LOOSEN PURSE STRINGS
Companies spent more on computers, software, and oil and gas drilling equipment, accelerating overall investment at a 7.3 percent annual rate.
The Trump administration's tax-cut package cut the corporate tax rate from 35 percent to 21 percent. It also allowed companies to write off the entire cost of an investment from their taxes, which might have helped boost business spending last quarter.
But most of the increase in investment reflected a jump in spending on oil and gas drilling rigs and related equipment. Oil companies have expanded their exploration as oil prices have jumped roughly 50 percent in the past year. It's considered unlikely that oil and gas drillers will keep expanding at the same pace.
GOVERNMENT SPENDING AGAIN
The federal government increased its spending at a 3.5 percent annual rate in the second quarter, the second-best showing in nearly four years.
For much of the nine-year economic expansion, federal, state and local governments haven't contributed much to the economy. Lawmakers have limited spending in the face of high deficits or dwindling tax revenue.
But that's likely to change. Congress approved a big spending package earlier this year, adding $300 billion to defense and other government spending this year and next. The resulting stimulus could help growth later this year and in 2019.