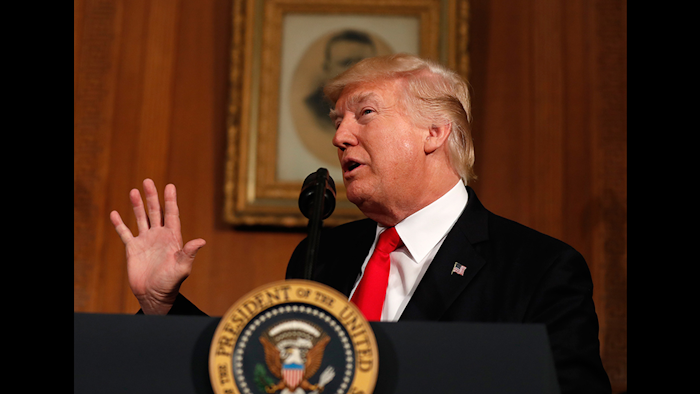 The Trump administration on Wednesday outlined what proponents hope will be the first overhaul of the nation's tax code in more than three decades.
The announcement, however, presented only a sketch of a tax plan and left Congress to hammer out its details. It also drew immediate criticism from Democrats, and its potential impact on the federal deficit could spark concerns from Republicans as well.
The Associated Press reports that the administration sought to slash the top marginal corporate tax rate from 35 percent to 15 percent and that the company owners that derive their personal incomes from small businesses would also see individual rates top out at 15 percent.
The package would also reduce the number of individual income tax brackets from seven to three, with the top bracket falling from 39.6 percent to 35 percent. The other rates would reportedly by 25 percent and 10 percent.
The White House proposal would cut many deductions — including those for state and local taxes — but retain others, such as the deductions for mortgage interest and charitable donations. The standard deduction for married couples would double under the plan.
Many details, however, remained missing from the initial proposal. Income parameters for the three tax brackets were not established, and it did not include specifics on promised tax relief for families with child care expenses.
White House officials also did not offer a projection of its impact on the federal budget. The administration contends that the cuts would generate enough economic growth to compensate for lost tax revenue — an argument that is disputed by most economists.
Democrats, meanwhile, characterized the proposal as a dramatic tax reduction for the nation's wealthiest citizens — likely including Trump himself, who critics noted has not released his tax returns.
Treasury Secretary Steven Mnuchin told reporters Wednesday that the president had "no intention" of releasing that information.
"I think the American population has plenty of information," said Mnuchin, who — inaccurately, the AP noted — suggested that Trump "has given more financial disclosure than anybody else."