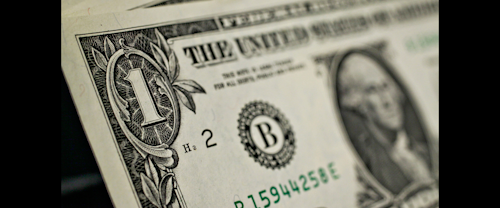 President Donald Trump said last week that the dollar is "getting too strong" and that he prefers "a low interest rate policy" as the Federal Reserve considers additional rate increases this year.
"It's very, very hard to compete when you have a strong dollar and other countries are devaluing their currency," Trump said in an interview with The Wall Street Journal.
A strong dollar makes foreign goods cheaper in the U.S. while domestic products become more expensive abroad. Those patterns can benefit consumers initially, but over the long term they tend to increase trade deficits and curb growth in manufacturing and the overall economy.
Trump's remarks could further complicate efforts by Republicans in Congress to overhaul the nation's tax system. House GOP lawmakers broadly support "border adjustment," which would prohibit businesses from deducting the costs of imports and, economists say, would increase the value of the dollar.
Proponents argue that a stronger dollar would allow businesses to afford imports despite a higher tax bill, but worries about the impact on the overall economy added to criticism from some business groups and an increasing number of GOP lawmakers.
The White House, the Associated Press reports, sent "mixed signals" about the plan.
Trump, meanwhile, apparently reversed his position on interest rates and Federal Reserve Chairwoman Janet Yellen.
The Fed in recent years sought to gradually increase interest rates from the record lows enacted in response to the Great Recession. Trump last year accused Yellen of keeping interest rates low to bolster Democrats at the ballot box and suggested he would replace her when her term expires next year.
In the interview with the Journal, however, Trump said that he would not rule out keeping her on.
"I like her, I respect her," Trump said. "It's very early."
The Fed increased interest rates in December and March, and analysts expect two additional increases later this year.
Trump also reversed course on two additional campaign themes in the interview: he voiced support for the U.S. Export-Import Bank and declared that China was not a currency manipulator.