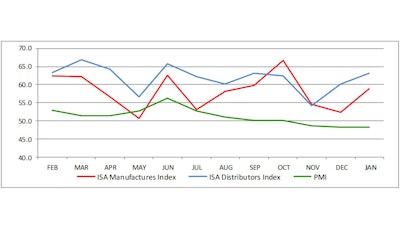 The Industrial Supply Association posted its January Economic Indicator Report on Feb. 19, which showed an interesting mix of trends for the three indexes which comprise the EIR.
ISM's Purchasing Managers Index was essentially flat, dipping from 48.3 in December to 48.2 in January. It was the PMI's third straight month of decline.
During the same period, ISA's Distributor Index rose from 60.2 to 63.1, while its Manufacturer Index snapped a three-month streak of decline with a healthy increase from 52.3 to 58.8.
It's been a solid two months of growth for the Distributor Index since it reached a 12-month-low of 54.2 in November.
For each index, a reading above 50 percent indicates expansion, while a reading below 50 percent indicates contraction.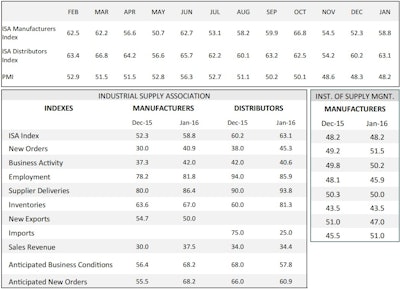 The following are comments from distributors regarding January activity:
"The Big Box stores are slashing prices on everything just to keep the $ coming in. We're losing orders to those competitors at 11-12% profit. When you see all the headlines about Graingers, MSC, Fastenal all being down double digits in sales and profits I guess we need to expect it. It's always so much harder to get prices back up to healthy margins after something like this. Everyone was encouraged to take on more debt with low rates.Now those debts are payable and the profitable revenue isn't there so they dive on it. Time to "hunker down" and add as much value as you can. Make your customer aware of the value and hope it's enough to get the orders."
"Business has slowed somewhat on the west coast. Working on large projects but not yet seen the release of pending purchase order to validate the effort."
"Strong dollar and weakness in Oil, Gas, Mining and AG are creating challenges" 
"2015 was an outstanding year for us and we expect 2016 to be about the same or perhaps slightly higher. It looks like both January and February will be better than 2015. We kind of expect the balance of 2016 to be more or less flat giving us the same results for 2016 as we had in 2015. Because of the election we do not have a clear view of 2017."
"A rough start to the year but up against a very nice January in 2015. The late start to the month didn't help things. First week of February looking strong though. Oil prices, China Crisis, El Nino and election year will make for a very interesting 2016."