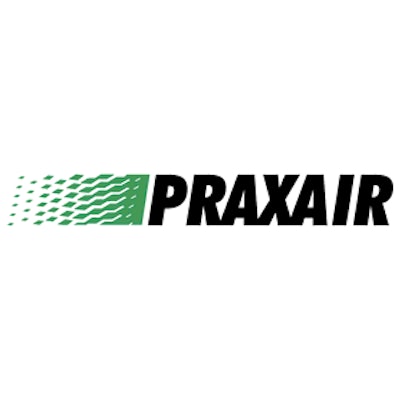 Praxair Reports Record Earnings and Cash Flow for Full-Year 2013
Danbury, CT - Praxair, Inc. reported fourth-quarter net income and diluted earnings per share of $474 million and $1.59, respectively. These results include an income tax benefit and bond redemption charge. Excluding these items, adjusted net income and diluted earnings per share were $462 million and $1.55, 12% above the prior-year quarter.*
Sales in the fourth quarter were $3,010 million, 10% above the prior-year quarter excluding currency translation effects. Organic sales increased 7% with growth across all geographic segments due primarily to energy, metals, chemicals and manufacturing markets. Acquisitions in North America and Europe contributed 3% growth in the quarter. Sales were steady sequentially from the third quarter due primarily to higher price offset by seasonally lower volumes.
Operating profit in the fourth quarter was $690 million, 12% above the prior-year quarter. The increase was driven by volume growth, higher pricing and acquisitions, partially offset by negative currency translation effects. Operating profit as a percentage of sales was a record 22.9%.
Fourth-quarter cash flow from operations was a record $964 million. Cash flow funded $516 million of capital expenditures, largely for new production plants under long-term contracts with customers, $177 million of dividends and $86 million of stock repurchases, net of issuances.
For full year 2013, reported net income was $1,755 million and reported diluted earnings per share was $5.87. On an adjusted basis, full-year net income was $1,772 million and diluted earnings per share was $5.93, 5% and 6% above the prior year, respectively.*
Full-year sales were $11,925, 8% above 2012, excluding negative currency translation. Growth was driven by stronger volumes, higher pricing and acquisitions. Reported operating profit was $2,625 million. Adjusted operating profit of $2,657 million was 8% above 2012, excluding negative currency translation.*
For the full year, cash flow from operations was a record $2,917 million, about 25% of sales. Capital expenditures were $2,020 million. The company invested $1,323 million in acquisitions, including the NuCO 2 micro-bulk carbon dioxide business in the United States, Dominion Technology Gases and several U.S. packaged gas distributors. The company paid dividends of $708 million and repurchased $436 million of stock, net of issuances. The Debt-to-capital ratio was 54.3% and debt-to-adjusted EBITDA was 2.2x. After-tax return on capital and return on equity for the year were 12.8% and 28.6%, respectively.*
Commenting on the financial results and business outlook, Chairman, President and Chief Executive Officer Steve Angel said, "In 2013, Praxair delivered record operating cash flow of $2.9 billion that represented about 25% of sales. Sales and earnings grew 8%, excluding negative currency translation effects, in a global economy that has only shown modest recovery. Operating margin was a strong 22%. We completed three world-scale steam methane reformers for hydrogen supply to refineries under long-term contracts and quickly integrated the NuCO 2 U.S. beverage carbonation business which has exceeded our expectations in all areas, including growth and operating profit.
"In 2014, we expect the global economy to continue to grow at a modest pace, in-line with recent sequential trends. In Southern Europe volumes are stabilizing and with our industry-leading position in North America we remain well positioned to continue to take advantage of the attractive fundamentals for the energy, manufacturing and materials industries. In Brazil, growth should be positive, although uneven, given ongoing macroeconomic challenges. We expect strong cash flow generation to fund new projects and return cash to shareholders in the form of dividends and share repurchases."
For full year 2014, Praxair expects sales in the range of $12.3 billion to $12.8 billion. This sales guidance assumes a negative currency impact of about 3% versus 2013 based on current exchange rates. The company expects diluted earnings per share to be in the range of $6.25 to $6.55, up 5% to 10% from 2013.* Full-year capital expenditures are expected to be in the range of $1.8 billion to $2.0 billion, and the effective tax rate is forecasted to remain at about 28%.
For the first quarter of 2014, Praxair expects diluted earnings per share in the range of $1.48 to $1.53, up 7% to 11%.*
---
Praxair Signs Long-Term Supply Agreement in Brazil
DANBURY, Conn.--(BUSINESS WIRE)--Jan 28, 2014--Praxair, Inc. (NYSE: PX) has signed a long-term contract to supply industrial gases to a new steel mill being built near the Port of Pecém in an international free trade zone in the state of Ceara, located in the northeast region of Brazil. The mill will be operated by Companhia Siderúrgica do Pecém (CSP), a joint venture between Brazilian Vale and South Korean Dongkuk Steel and Posco Steel.
Praxair will build, own and operate a 2,400 tons per day cryogenic plant that will produce gaseous and liquid oxygen, nitrogen and argon. The plant will enable CSP to produce an expected 3 million tons of steel slabs annually, which will largely be exported for further processing by CSP's Korean partners. The plant is expected to start up in 2016.
"We are proud to have been chosen to play such a significant role in this project," said Domingos Bulus, president of Praxair South America. "Our state-of-the-art plant and world-class Praxair team will provide CSP with the gases it needs to deliver a steady supply of high-quality steel products."
According to CSP, "Praxair's regional capabilities as a reliable on-site source of high-quality oxygen were critical to its selection for this phase that involves an annual production of 3 million tons of slabs. The confidence in this choice enables CSP to continue to develop the first integrated steel mill in northeastern Brazil with a strong base."
The new plant will also serve merchant and packaged gas customers in a variety of sectors across the northern and northeastern regions of Brazil, including food and beverage, metal fabrication, healthcare and automotive.