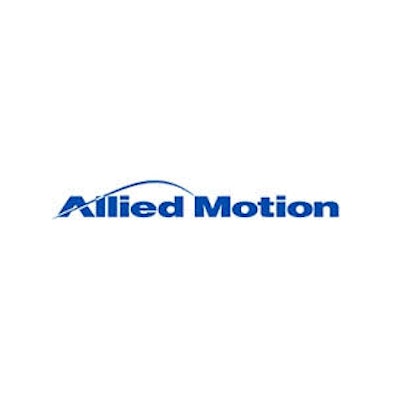 Reports Record Results for the Quarter Ended March 31, 2014
Amherst, NY - Allied Motion Technologies Inc. announced net income increased 124% to $2,148,000 or $0.24 per diluted share for the quarter ended March 31, 2014 compared to $960,000 or $0.11 per diluted share for the quarter ended March 31, 2013. Revenues for the quarter increased 140% to $60,435,000 compared to $25,143,000 last year with sales in the U.S. up 200% and foreign sales up 78%. Cash at March 31, 2014 increased to $9,718,000 compared to $8,420,000 on March 31, 2013. During the first quarter of 2014, the company received $1,434,000 from the former owner of Globe Motors from a purchase price working capital adjustment, reducing the overall purchase price of Globe to $88,566,000.
"As mentioned in our press release from the fourth quarter of 2013, we expect our revenues for 2014 to more than double relative to Allied's 2013 pre-acquisition revenues and for the Globe acquisition to be accretive to earnings. The record results for the first quarter 2014 are in line with these expectations," commented Dick Warzala, Chairman and CEO of Allied Motion. "While Globe continues to operate in substantially the same manner as it was prior to the acquisition, the integration process has begun and will continue throughout 2014 as we follow a structured approach that we believe will lead to success in the process. Additionally, we are encouraged with our first quarter results as we experienced growth in almost all of our served markets and converted several new potential opportunities into design-in wins. With a continued focus on the Globe Motors integration, we expect the year to be transformative and will put us in a position to leverage the capabilities of both companies to create new opportunities by designing innovative 'Motion Solutions That Change the Game' and meet the current and emerging needs of our customers in our served market segments."
Bookings for the quarter ended March 31, 2014 were $64.4 million compared to $21.0 million for the first quarter of 2013. Backlog as of March 31, 2014 was $79.7 million compared to $28.0 million as of March 31, 2013, a 184% increase over the prior year.