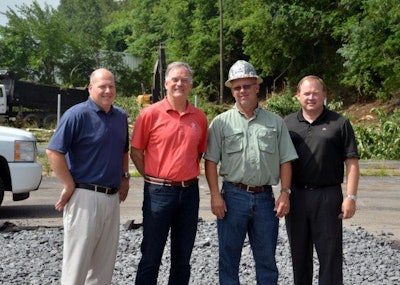 NASHVILLE, Tenn. — Tencarva Machinery Company, based in Greensboro, N. C., recently broke ground on its new facility at 2937 Kraft Drive in Nashville, Tenn., that will bring together into one location its Nashville Branch Office and the Southern Sales Division, according to Edwin W. Pearce, III, president of Tencarva.
Don Wirth, vice president located in the Nashville Branch Office, indicates that the two-acre site will encompass an approximately 23,000 square foot office-service center upon completion around March 1, 2015. Of this space, 9,000 square feet will be utilized for office and training, with 14,000 square feet housing warehouse and service. The Tencarva team from both divisions totals 29 employees.
Wirth explains, "The Tencarva facility on Fesslers Parkway in Nashville has been sold, and the existing Southern Sales Division building will be used to house personnel from both companies until the new building is completed, then it will be put up for sale."
Architect for the facility is Southeast Venture, with Crain Construction as the general contractor. Allen-Guffee Investments acquired the property from P356 Properties in 2009.
Wirth points out, "There are many exciting aspects of erecting this new building, and it starts with combining all activities of both the industrial and municipal divisions under one roof. Everyone is family, and
having all of us together and interacting will be terrific."
Within the office area, a 24' X 40' training area will allow staff to perform customer training activities previously not available in house. These training activities will be both technical in nature as well as teaching equipment maintenance and repair.
The warehouse/service area will serve as a repair facility for the firm's municipal and industrial customers. The operation's uniqueness begins with the actual layout and the approach to handling equipment to be repaired coming in and moving through the repair facility. Two five-ton overhead cranes and multiple column mounted jib cranes for lifting will assure worker safety, which is most important to Tencarva.
A filtered "clean room" for bearing frame assembly will be in place. For larger companies that look for extended equipment run times, this clean environment for bearing assembly is absolutely necessary and was important to the company to include as a part of Tencarva's quality repair process.
Wirth emphasizes, "We would hope all customers would look upon this quality procedure as being important to them in their long-term desire to extend operating time, improve production and reduce costs associated with downtime!"
A test pit, 14' X 23' X 8' deep with 12" diameter pipe test loop including a flow meter and electrical testing equipment, will be in place to run test horizontal, vertical and submersible pumps up to 300 HP (horsepower) at 460V (volts) and 150 HP at 230V.
Wirth says, "Again, the ability for Tencarva to perform this added service is unique, as we will be able to quantify, verify and assure quality in both the repair and performance of the pumps and allow customers to reinstall the equipment we repaired knowing it will operate and perform to their expectations."
Tencarva Machinery Company was ranked 41st in the 2013 "Big 50" list of largest industrial distributors in the United States, based on annual revenue in 2012, by Industrial Distribution magazine. Tencarva was listed as 34th in the 2013 "Fast 50" companies selected by The Business Journal Serving the Greater Triad Area. Tencarva also ranked 44th in the "Grant Thornton North Carolina 100" privately owned companies as published in Business North Carolina in October 2013 and 35th in the "2013 North Carolina Mid-Market Fast 40" ranking by the publication.
For further information on Tencarva and its services, please visit the website at http://www.tencarva.com.