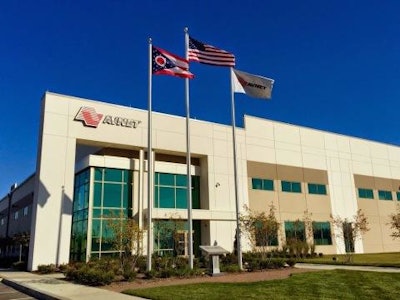 PHOENIX & COLUMBUS, Ohio — Furthering its commitment to provide industry-leading services to its customers, global technology distributor Avnet, Inc. (NYSE: AVT ), based in Phoenix, announced Wednesday the grand opening of its largest IT services facility worldwide in the Columbus, Ohio, area — the CenterPoint Value-Added Services Center. The 580,000-square-foot, state-of-the-art facility provides complete IT lifecycle services in one location. Unique within the industry, the all-in-one services model brings together engineering, integration, installation, logistics, fulfillment, repair, recycling, remarketing, call center, and maintenance services. CenterPoint provides services for original equipment manufacturers (OEM), system integrators (SI) and value-added reseller (VAR) partners.
CenterPoint spans the equivalent of about 123 basketball courts or 10 football fields. Its grand opening celebration event was be held on Wednesday. The invitation-only event at the facility featured Avnet executives and local government dignitaries.
"Lifecycle services present a terrific opportunity for our customers to grow their businesses because they maximize the potential of IT by creating complete end-to-end business solutions," said Mike Hurst, senior vice president of Avnet Services. "By developing a facility to house all of our lifecycle services under one roof, we've created a collaborative services environment that will help our customers reduce complexity, decrease costs and time to market, enhance their offerings, expand into markets and improve customer satisfaction. The capabilities available at the CenterPoint Value-Added Services Center are a great example of how Avnet is providing its customers with innovative services — giving them a distinct competitive advantage."
Avnet's lifecycle services reduce costs and minimize risks by customizing programs for IT environments. The all-in-one model delivers significant savings in procurement time and minimizes downtime by managing every aspect of the equipment lifecycle, from financing to installation, repair and eventually disposal. Services offered at CenterPoint include:
Call center (technical assistance)
Engineering
Integration through final assembly and testing
IT asset disposition (ITAD)
Logistics and fulfillment services
Product design
Recycling and remarketing
Repair and refurbishment
Screen test and repair
Technology integration
Warranty management
"We're excited to have Avnet's CenterPoint Value-Added Services Center – the largest Avnet facility in the world – located right here in Ohio where the company plans to create 300 new jobs," said Mary Taylor, lieutenant governor of Ohio. "And the commitment to hire our military veterans is especially telling of the kind of corporate citizen and member of the community Avnet is now and will be in the future. Thanks to partnerships at the local level and with JobsOhio, this project is another big win for Central Ohio, for our state and for the families that will benefit from new jobs."
Avnet's worldwide infrastructure of distribution centers, value-added centers and third-party logistics capabilities include a global footprint of 3.6 million square feet and more than 3,500 employees dedicated to operations and value-added services. The new facility in the Columbus area is one of five Avnet centers specializing in lifecycle solutions, with the others being located in Georgia, Texas, Netherlands and Singapore.
CenterPoint is designed to support a wide variety of specialized requirements for the energy, government, healthcare and telecommunications markets, as well as technology areas related to big data, converged infrastructure, mobility, and security. It holds multiple industry certifications, including those for environmental management (ISO:14001); occupational health and safety performance (OHAS 18001); quality management (ISO:9001); quality management in medical devices (ISO:13485); responsible recycling practices (RIOS and R2); and telecom quality management (TL 9000).
For more information about Avnet's lifecycle and services capabilities, visit www.services.avnet.com.
Avnet, Inc., a Fortune 500 company, is one of the largest distributors of electronic components, computer products and embedded technology serving customers globally. For the fiscal year ended June 28, 2014, Avnet generated revenue of $27.5 billion. For more information, visit www.avnet.com.