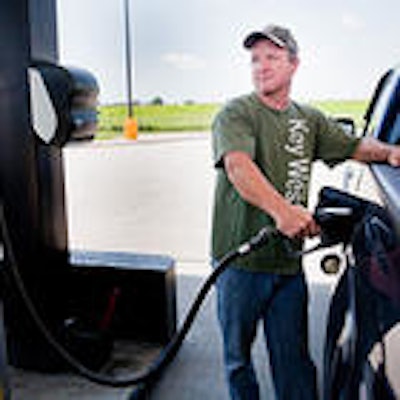 WASHINGTON (AP) — U.S. consumer prices edged up slightly in September, with the overall increase held back by a third straight monthly decline in gasoline prices. The tiny gain was the latest evidence that inflation remains benign.
Consumer prices rose 0.1 percent after having falling 0.2 percent in August, the Labor Department reported Wednesday. Core prices, which exclude volatile food and energy, also climbed 0.1 percent after no gain in August.
Over the past 12 months, both overall and core prices are up 1.7 percent. The increases are well below the 2 percent target for inflation set by the Federal Reserve. The modest inflationary pressures have allowed the central bank to keep interest rates at record lows to boost the economy.
Analysts said the big drop in energy prices should hold down inflation in the months ahead and provide more maneuvering room for the Fed. Many economists don't expect the Fed to raise its key short-term rate until June of next year.
"The softer inflation outlook gives more ammunition to those Fed officials who would prefer to wait longer before raising rates," said Paul Dales, senior U.S. economist at Capital Economics.
While low inflation has given the Fed leeway to keep interest rates low, it represents a hardship for savers. It also means millions of Americans who receive Social Security benefits get lower cost of living adjustments. The government announced Wednesday that based on inflation over the past year, benefits will increase 1.7 percent in January, the fifth time in the past six years that the benefit increase has been under 2 percent.
Food costs rose 0.3 percent in September and are up 3 percent over the past 12 months, exacerbated by drought conditions in parts of the country. Beef and veal prices jumped 2 percent in September and are up 16.7 percent since January.
Energy prices fell 0.7 percent, the third consecutive monthly drop. The index includes a third decline in gasoline prices, which fell 1 percent in September and are down 3.6 percent from a year earlier.
A plunge in global oil prices in recent weeks is expected to keep downward pressure on energy prices. Oil is trading below $85 per barrel now, down about 27 percent from its high point this year, giving people a big break at the pump. The AAA says that the nationwide average for gas is now $3.09, down 25 cents in just the past month.
Airline fares fell 0.5 percent in September, and some analysts predicted even bigger declines in the months ahead.
Economists are optimistic that lower energy prices will help fuel consumer spending in coming months. If consumers are spending less filling up their tanks, they tend to spend more on other items.
The Fed seeks to promote maximum employment and stable prices. Price increases measured by the Fed's favorite inflation gauge have been running below 2 percent for two years.