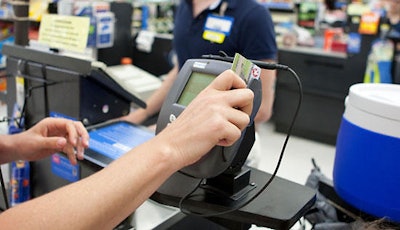 WASHINGTON (AP) — U.S. consumer cut spending in September for the first time in eight months, as incomes grew at the slowest pace this year. The figures underscore nagging economic soft spots that are expected to ease in the coming months.
Consumer spending slipped 0.2 percent in September, the Commerce Department reported Friday, the weakest performance since an identical decline in January. Income edged up 0.2 percent in September in the smallest monthly gain since a flat reading last December.
Shoppers appeared to take a breather after a big spending spree in August, which lifted consumer spending 0.5 percent. Economists say September's downturn shouldn't last, especially amid a strengthening job market and a growing economy.
Spending, which accounts for 70 percent of economic activity, has fallen only three times since the recession ended in 2009.
Economists blamed the weak September spending figure on falling energy prices and slower auto sales after a surge the previous month.
Ian Shepherdson, chief economist at Pantheon Macroeconomics, said he expects consumer spending to accelerate to a 2.5 percent rate in the current October-December quarter, faster than the 1.8 percent spending gain in the third quarter.
"The next couple of months will see spending pick up strongly as people start to spend their windfall from falling gas prices," Shepherdson said.
In September, spending on durable goods such as autos dropped a sizable 2 percent after a 2.1 percent jump in August. Spending on nondurable goods such as clothing, food and gasoline, was down 0.3 percent, while spending on services such as doctor's visits and utilities posted a modest 0.2 percent rise.
Lower prices at the pump mean consumers will have more to spend on other items.
Another reason for optimism is continued strong job growth, which pushed the unemployment rate down to a six-year low of 5.9 percent in September. More people working means higher incomes and more fuel to drive consumer spending.
The small rise in income and the decline in spending in September resulted in a slight increase in the saving rate.
Savings as a percentage of after-tax income rose to 5.6 percent in September, up from 5.4 percent in August. The saving rate averaged 4.9 percent in 2013, down from 7.2 percent in 2012. That had been the highest level in nearly two decades as Americans worked to boost savings following the 2007-2009 recession.
Inflation as measured by a gauge tied to consumer spending edged up a slight 0.1 percent in September, with prices up just 1.4 percent over the last 12 months. That is well below the 2 percent target for annual price increases which the Federal Reserve considers an optimal level for inflation.
The government reported Thursday that the overall economy, as measured by the gross domestic product, grew at an annual rate of 3.5 percent in the July-September quarter. Analysts believe after five years of sub-par economic growth, the economy has finally accelerated, helped by solid employment growth.
Economists project growth of 3 percent in the current quarter, helped by solid consumer spending. They are also forecasting 3-percent growth in 2015, which would be the strongest level since 2005, two years before the start of the Great Recession.
The improving economy prompted the Federal Reserve this week to end its third round of bond purchases, which have pushed the central bank's balance sheet up by more than $3 trillion over the past six years. The Fed bought the bonds as a way to put downward pressure on long-term interest rates and provide an extra boost to the economy after it had slashed its key short-term rate to a record low near zero.