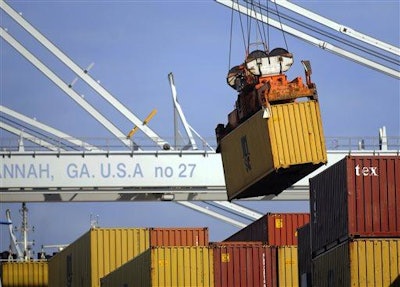 The U.S. trade deficit rose in September, as a broader global economic weakness caused exports to fall.
The Commerce Department said Tuesday that the trade deficit rose 7.6 percent to $43 billion in September. That marks the first increase in four months.
Economic slowdowns in Europe and China appear to have hurt demand for American-made goods. Since September, the dollar has appreciated in value more than 4 percent against the euro to $1.25, making U.S. products less competitively priced abroad.
Exports fell 1.5 percent to $195.6 billion, led by declines in shipments of industrial supplies, consumer products and capital goods such as engines and computers.
September imports held steady at $238.6 billion for the second straight month.
The trade gap has been tempered this year by the boom in U.S. energy production, which has reduced dependence on foreign oil and increased U.S. petroleum exports. So far this year, petroleum imports are 7.6 percent below the level of a year ago. Part of that decline has come from falling oil prices, with crude imports costing 3.1 percent less so far this year.
Petroleum exports will likely fall in the months ahead, as oil prices have slipped below $80 a barrel from more than $100 a barrel in June.
"The collapse in crude oil prices means that the trade deficit will narrow again before the end of this year," said Paul Ashworth, chief U.S. economist at Capital Economics.
The politically sensitive trade deficit with China surged 17.6 percent to $35.6 billion in September, an all-time high. The release of the new Apple iPhone likely fueled much of the 12.7 percent increase in imports from China, just as growth in that economy has slipped and caused U.S. exports to fall 3.2 percent.
The deficit with China is on track to set another record for the entire year, creating more pressure for Congress and the Obama administration to take steps to curb what critics call unfair trade practices in China.
U.S. manufacturers say that China is manipulating its currency for a trade advantage. They accuse China of undervaluing the yuan to make the goods it manufactures cheaper when they are exported, and American products more expensive in China.
U.S. exports to the European Union also fell in September, decreasing 6.5 percent compared to August as several nations on that continent are grappling with the risk of a recession.
Through September, the trade deficit totaled $378.1 billion, compared to $363.9 billion for the same period last year. For all of 2013, the deficit totaled $476.4 billion, 11.4 percent lower than in 2012. Many economists believe the trade deficit will rise slightly in 2014, as a stronger U.S. economy is drawing in more imports.
The trade deficit would be a modest drag on overall growth. That's because U.S. producers are selling less abroad compared to foreign companies.