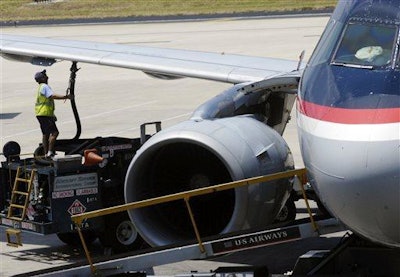 Planes are full. Passengers clamor for amenities. Investors want a payout. New planes are on order.
Those are all reasons the airlines likely won't be passing their recent savings on fuel along to fliers in the form of lower fares.
In fact, fares are going higher. And those bag fees that airlines instituted in 2008 when fuel prices spiked aren't going away either.
In the 12 months ended in September, U.S. airlines saved $1.6 billion on jet fuel — their largest expense. In the first three quarters of this year, airlines posted a 5.7 percent profit margin, robust for the industry but lagging behind the 10 percent average for the Standard & Poor's 500.
The main reason the airlines are not sharing the riches with passengers: There is no compelling reason to do so.
In the past six years, airlines have done a great job of adjusting the number of flights to fall just short of demand. As a result, those who want to fly will pay a premium to do so. Airlines are selling a record 85.1 percent of their domestic seats. Thanks to several mega-mergers, four big airlines control the vast majority of flights, leaving very little room for another airline to undercut fares.
With that in mind, here's a closer look at what's going on with airfare and the price of jet fuel:
— The average domestic airline ticket during the first nine months of this year rose 3.1 percent to $374.96, according to an Associated Press analysis of data from the Airlines Reporting Corp., which processes ticket transactions for airlines and travel agencies. That figure doesn't include another $56.32 in taxes and fees that passengers pay.
— In the 12-month period ending in September, U.S. airlines burned through nearly 16.2 billion gallons of fuel. They paid an average of $2.97 a gallon — down from $3.07 the prior year, according to the Bureau of Transportation Statistics. That 10-cent drop saved the industry $1.6 billion. Fuel prices have since fallen further. United Airlines estimates it will pay $2.76 to $2.81 a gallon during the last three months of the year.
— Put another way: U.S. airlines burn through 311 million gallons of fuel in a week. Lower fuel prices are saving them $31 million a week.
— Granted, with 751 million passengers carried last year that averages out to a savings of $2.15 for each leg of a trip a passenger takes: $4.30 on a roundtrip non-stop ticket or $8.61 on a roundtrip connecting itinerary.
— Fuel accounts for 34 percent of an airline's operating costs. The non-fuel costs include salaries and benefits, lease payments on airplanes, maintenance and fees for landing at airports. That doesn't include the cost of reservation systems, marketing or food and drinks.
— Airlines are also reinvesting in their planes, airport terminals and computers. In the first nine months of this year, U.S. carriers spent $10.2 billion on capital improvements, according to the industry's trade and lobbying group, Airlines for America. That more than $1 billion a month, the highest pace since the 9/11 terrorist attacks.
— Airlines are on the largest jet-buying spree in the history of aviation, ordering more than 10,000 new planes withmanufacturers Airbus and Boeing in the past five years. Those orders are for new, fuel efficient planes. A temporary drop in oil prices shouldn't slow that process. New jets last 15 to 20 years and the buying is driven by cheap credit almost as much as high oil prices.
— Money is also going back to investors. American Airlines this year paid its first dividend in 34 years, while Delta Air Lines restored its payout last year. Southwest Airlines, which has paid one for more than 37 years, boosted its payout by 50 percent this spring. The airlines are all also buying back large amounts of their own stock.
— Airlines responded to high fuel prices by limiting the number of flights, giving them the power to charge higher fares. Now, Wall Street analysts are worried that lower oil prices are causing them to recklessly add new routes or extra flights where profits aren't guaranteed. Hunter Keay, an analyst with Wolfe Research, recently wrote in a note to investors that the beauty of high oil prices is that they "force airlines to make hard choices that are almost always good for the long term investability of the space, mainly around capacity decisions and fees."