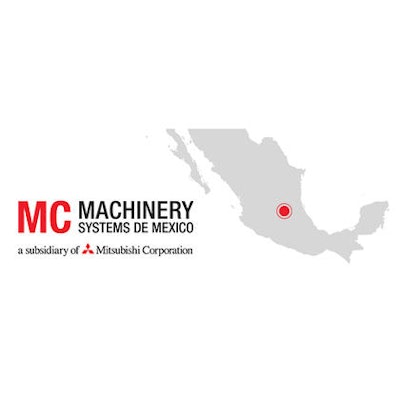 WOOD DALE, IL — Mitsubishi subsidiary MC Machinery Systems has recently announced a significant expansion and commitment to its operations in Mexico. MC Machinery Systems de Mexico will serve the country's growing demand for EDM, fabrication, milling, and turning machines built by Mitsubishi and the family of brands MC Machinery represents.
The operation will include a full service and support department, and an onsite warehouse will stock OEM-quality consumables and service parts to ensure quick and easy purchase and fulfillment throughout the country.
"Market forces compelled us to establish a more prominent presence in Mexico," said Bill Isaac, Vice President of Sales and Marketing at MC Machinery. "Demand reached a point to where the only way we could serve customers and prospects to our standards was by opening a fully staffed and stocked operation inside Mexico. We very much look forward to having everything up and running and providing a complete and responsive machine tool supply chain to Mexican manufacturers."
The operation is led by Sales & Service Senior Manager, Mauricio Martin, a veteran of the manufacturing equipment industry with leadership experience in engineering, sales, marketing and service. Most recently he held the position of Vice President, Marketing, Sales and Technical Service at the distributor Grupo Hitec. Martin has also served as President of the Machine Tool Division of the Mexican Association of Machinery Distributors.
"Over the 28 years I've worked in this industry, I've seen firsthand how Mitsubishi machinery has established itself as a leader, especially in the areas of EDM and laser," said Martin. "The combination of elite products and the world class service and support MC Machinery is known for has our team very excited for the future of this young operation."
Martin expects to have a fully stocked showroom in the new El Marqués, Querétaro-located facility by the fall, with demonstration machines from all product lines. There will also be a high tech training facility at the new location that will host frequent training classes for all machines and controls on an ongoing basis. In addition, the facility will host open houses throughout the year. The first open house is scheduled for October 22-23, 2015 and will serve as the grand opening.
MC Machinery de Mexico already employs a team of nearly 20 people, made up of product-specific service and application engineers, both in house and in the field, as well as support specialists. There are plans are to add more employees in the near future.
Sales will be handled directly by MC Machinery de Mexico or through distributors Nexttec and Hitec depending on the territory.