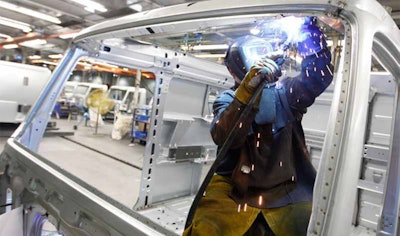 Although the manufacturing sector's contribution to the U.S. economy declined over the previous decade, a new report suggests that the expanding service industry — rather than the demise of manufacturing — is to blame.
Research firm IBISWorld reported that during the 10-year window ending in 2015, manufacturing's share of the national economy is expected to fall from 10.7 percent to 8.1. percent, while employment in the industrial sector should decrease to 15.6 percent.
Despite perceptions about the detrimental impacts of technology, regulation and foreign competition on American manufacturing, however, the report said that the service sector simply grew at a much faster pace over that span.
"In reality, many manufacturing industries have continued to expand, and the United States remains one of the largest manufacturers in the world," the report said.
Read more: Manufacturing technology trends for 2015 and beyond.
The analysis said that chemical manufacturing is the largest industrial subsector in the country and experienced growth in recent years due to the strength of organic chemicals, generic pharmaceuticals and supplements.
IBISWorld expects continued growth in the sector, whose revenue should exceed $1 trillion in 2020. Organic chemicals, in particular, benefitted from easier access to natural gas feedstock due to fracking.
Machinery manufacturing and fabricated metal product manufacturing should also continue to exhibit strong growth patterns.
Apparel manufacturing, meanwhile, experienced a prolonged decline over the past 10 years due to the growing prevalence of imports and the shift of clothing production to lower-wage nations.
Printing also suffered due to increasingly digital workplaces, according to the report, while furniture production suffered in the wake of the housing crisis and must address low-cost imports in the future.