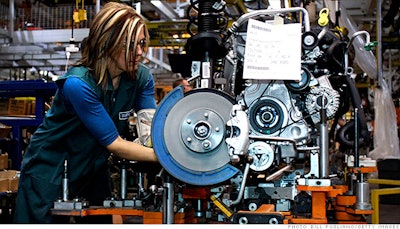 Productivity in the U.S. manufacturing sector increased during the second quarter of 2015 while labor costs declined, according to newly released numbers from the U.S. Bureau of Labor Statistics.
Manufacturing productivity rose 2.3 percent on a seasonally adjusted annual basis, the agency reported on Wednesday.
The metric measures output per hour and is calculated using federal indexes of both output and total hours worked. Manufacturing output during the quarter increased 1.3 percent, while the number of hours decreased by 0.9 percent.
Read more: Maximize uptime and boost performance.
Durable goods manufacturing saw stronger productivity growth at 2.8 percent; non-durable goods production saw a 1.2 percent increase.
Compared to the second quarter of 2014, overall manufacturing productivity increased 1 percent, the result of a 2.3 percent output increase and a 1.2 percent hours increase.
Meanwhile, unit labor costs — a measure of productivity compared to hourly compensation — declined 2.2 percent in the manufacturing sector in the latest quarter as compensation remained nearly equal to the first quarter.
Over the past 12-month period, unit labor costs were up 0.2 percent.
Overall productivity in the nation's non-farm businesses rose 3.3 percent as the 1.4 percent increase in hours was outpaced by 4.7 percent output growth. The increase represented a rebound from the first quarter, when productivity declined by 1.1 percent.
Non-farm unit labor costs declined 1.4 percent in the second quarter. Compensation increased by 1.8 percent but was outpaced by the 3.3 percent productivity increase.