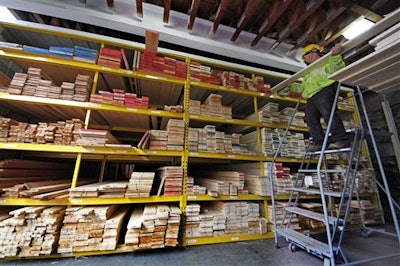 WASHINGTON (AP) — U.S. businesses boosted their stockpiles by a tiny amount in July while sales also showed a slight gain.
Business inventories increased 0.1 percent in July compared to June when stockpiles were up 0.7 percent, the Commerce Department said Tuesday. The July gain was the smallest since a 0.1 percent increase in March. Sales were also up 0.1 percent in July after a 0.3 percent rise in June. Sales had fallen for seven straight months through February and have been posting modest increases since that time.
Economists are forecasting that sales will keep rising in coming months and that will support economic growth in the second half of the year. However, they think a brief slowdown in restocking will dampen economic growth in the current July-September quarter.
Overall economic growth, as measured by the gross domestic product, slowed to an anemic 0.6 percent annual rate in the first quarter, reflecting the harsh winter, labor disruptions at West Coast ports and other factors that dampened growth.
GDP rebounded to a 3.7 percent growth rate in the April-June quarter and analysts believe growth will hold steady at around 2.5 percent in the second half of this year, helped by stronger consumer spending.
In a separate report Tuesday, the government said that retail sales increased 0.2 percent in August after a 0.7 percent rise in July. The August advance was bolstered by increased spending on cars and clothing.
Economists believe spending will remain strong in the second half of the year, reflecting continued solid job gains. The unemployment rate dropped in August to a seven-year low of 5.1 percent.
The July increase in stockpiles reflected a 0.6 percent gain in inventories held by retailers. Stockpiles held by manufacturers and wholesalers both fell 0.1 percent.