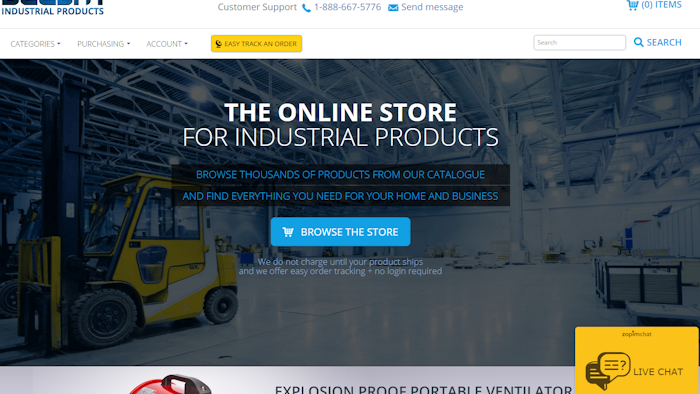 MIAMI, FL — With thousands of products in a wide range of categories and an easy-to-navigate website, Deelat Industrial USA is changing the way contractors, universities, hospitals, schools and maintenance companies buy industrial products. Launched in 2014, Deelat Industrial USA continues to grow and expand its inventory of high-quality building supplies, and Deelat's state-of-the-art website streamlines shopping and ordering.
Today, the company's website, Deelat.com, features more than 13,000 private-label products in categories like HVAC, electrical, fasteners, and medical. Our feature products include: 
1-Phase 110V Explosion Proof Portable Ventilator
Ultrasonic Thickness Gauges
Double Swivel Hoist Rings
Privacy Screen Filters
PVC Flexible Ducts
Plus, Deelat has made ordering building supplies and industrial products easier. Using Deelat, companies can search for, purchase and track orders in one-click. The new intelligent search feature allows customers to find products more quickly, with both auto-fill results and also drop down options similar to Google.
"We wanted to make buying easier for our customers, and offer a better, more personal level of service" said Manuel Goberna, Deelat Industrial's Business Development Manager. "Finding the correct product quickly will save you time and money, and that is our goal."
As an emerging industrial supplier, Deelat is also changing the customer experience. Deelat guarantees excellent, on-call customer service; convenient, user-friendly ordering and on-time shipping. New to the site will be professional high definition photos, 360' product videos, and YouTube how-to/instructional videos on every product page. Having access to so many media types, will give the customer the trust and confidence that the product matches their needs.
Intuitive Ordering: Deelat's state-of-the-art website is designed to simplify ordering. First, the site's intuitive search function helps users find products based on preferences. Plus, the site offers useful order management tools for corporate clients and one-click order tracking.
Fast Shipping: Traditionally, shipping industrial products has been a slow and expensive process. Deelat eliminates this problem by providing customers accurate estimates for shipping time and costs, which are based on distance, expediency and weight. Products are available for Ground, Two-Day or Express Overnight shipping from the company's warehouse in Miami, FL.
Excellent Customer Service: Deelat guarantees an unparalleled customer experience. Communication is responsive with an on-call staff of customer service representatives. Your questions will answered quickly and honestly.
Privacy and Security: Deelat.com features cutting-edge 256-bit SSL encryption and security technology. Customers are guaranteed security and privacy for their data when ordering from Deelat.com. Deelat also recently achieved an A+ rating with the Better Business Bureau (BBB), giving customers more trust then ever before.
For more information about the Deelat brand, products, service, or pricing inquiries, visit http://www.deelat.com or contact their toll free customer support 1-888-667-5776.