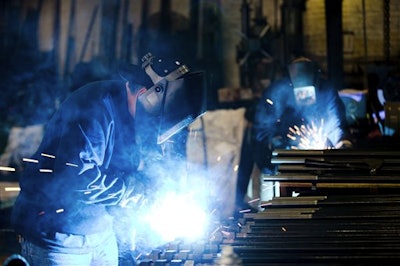 Top U.S. manufacturers are more optimistic about their revenue projections but decidedly less encouraged about the U.S. and global economies, according to a new survey.


The PwC US third quarter Manufacturing Barometer report showed that large industrial manufacturers expected revenue for the subsequent 12 months to increase by 5.3 percent, up from 4.9 percent in the second quarter poll.
Their optimism about the U.S. economic outlook, however, declined from 69 percent in the previous survey to 60 percent.
Meanwhile, only 23 percent of respondents were optimistic about the global economy, the same percentage as those who were pessimistic and a 15 percent drop from the second quarter poll.
Forty percent of participants said that they believe the global economy is declining.
"U.S. industrial manufacturers became increasingly cautious on the outlook for the global environment as they assessed the impact of the slowdown in China and the strengthening dollar," said PwC's Bobby Bono.
Respondents ranked the monetary exchange rate as the top hurdle to growth in the coming 12-month period, with 38 percent expressing concern about the dollar compared to just 14 percent in the third quarter of 2014.
Nearly one-third of participants were concerned about demand levels, while a quarter identified regulatory pressure as an economic headwind.
Top manufacturers were also less likely to hire more workers. In the second quarter, more than half of participating companies expected to add employees over the next year, but only 37 percent expressed that view in the third quarter.
Bono said that hiring declines likely reflected slower growth projections and noted that management teams will likely intensify efforts to increase productivity.
Read more: Industrial positioning for workforce change, growth.
Capital investment, however, remained relatively healthy. The 37 percent of companies planning major new investments was up from the second quarter survey, and investment as a percentage of total sales jumped from 3.3 percent in the previous quarter to 5.6 percent.
"At the same time, they are continuing to pull back from overseas expansion, with only five percent indicating plans to open facilities abroad," Bono said.
The latest Manufacturing Barometer reflects interviews with 60 senior executives of large, multinational U.S. manufacturers conducted between June 24 and Sept. 28.