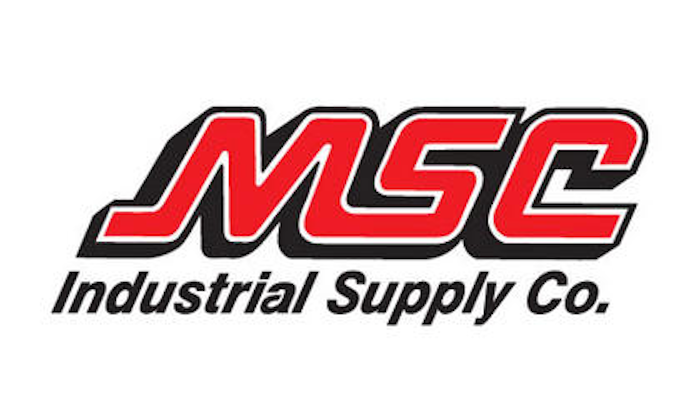 The last quarter was not an especially good one for distributors serving the industrial markets. Sequestration, the government shutdown, and a slowdown in orders overall took its toll on many distributors who had expected the second half of 2013 to be much stronger than the first half. Although there was growth in some sectors such as in aerospace and automotive, there was softening in others such as primary metals, metal fabrication, and machine building.
For many distributors it was disappointing, especially since they had counted on the second half of the year to be much stronger than the first half.
MSC Industrial Direct, one of the largest MRO distributors in the country, was not immune to all those difficulties. The softening in many industrial markets, especially in metalworking, had its effect on MSC's sales, as did the fall off in government spending. But MSC has seen an uptick in orders during September and October and is setting the stage for future growth.
Its acquisition of Barnes Distribution North America earlier this year helped lead MSC to post solid sales growth in the fourth quarter that ended Aug. 30th. The acquisition, one of the largest made in the industrial distribution sector in 2013, was completed in April. The $550 million deal for BDNA, which has a strong footprint in the U.S. and Canada, was announced in February.
MSC reported that its net sales for the fourth quarter of fiscal 2013 were $673.8 million, an increase of 6.1% (12.7% on an average daily sales basis) over net sales of $635.3 million in the fourth quarter of fiscal 2012. The new BDNA business contributed approximately $73.6 million to net sales in the fiscal 2013 fourth quarter. The increase in sales came despite basically flat organic sales.
In many ways, this past year has been one of the more significant ones in MSC's history. The company announced several new initiatives that it says will position itself for growth in the coming years. Here are just some of the major changes that MSC has announced this year:
Its purchase of Barnes Distribution of North America (BDNA)
Moved its co-headquarters location to a new facility in Davidson, NC
It will close BDNA's Cleveland headquarters and move it to Davidson in 2014
It will increase sales of its vending program and expand its ecommerce business which now accounts for about 44 percent of its revenues
Added a total of 100,000 SKU's during fiscal 2013, bringing its total SKU offerings to around 700,000. The company plans on adding another 150,000 SKU's during fiscal year 2014
Broke ground on its fifth customer fulfillment center that is expected to be completed in 2014
Continued expanding its private labeling program, which is growing sharply as a percentage of overall sales
Continues adding salespeople to its workforce
Erik Gershwind, President and CEO of MSC, told financial analysts in a recent earnings call that the company continues to position itself for $4 billion in sales by the end of fiscal 2016, a goal the company set at the end of fiscal 2011. MSC is now running at a $2.7 billion rate for this year.
"That goal implied a 15% compound annual growth rate, inclusive of organic and acquisitive growth in a moderate growth environment, with the majority of the growth being organic as it had been in the past," Gershwind said according to a transcript of the call as provided by www.seekingalpha.com. "We're now just over 2 years into that plan, closing fiscal 2013 at around $2.7 billion on a run-rate basis, inclusive of annualized BDNA sales. Our organic growth rate since fiscal 2011, though, has been lower-than-anticipated, due to the impact of softness in the metalworking sector this past year. Clearly, we've not been operating in a moderate growth environment. Nonetheless, achieving our $4 billion goal requires a CAGR of just under 15% over the next 3 years. So we remain on track, although we will need to see an improvement in our organic growth rates to achieve the goal."
MSC will be taking a variety of steps to achieve this goal. It intends to remain active on acquiring companies as the distribution sector continues to consolidate, a process that Gershwind said is in its early stages. But Gershwind was also quick to point that MSC will not acquire simply to hit their growth sales target, but that any acquisitions must have a strong strategic and cultural fit and must meet MSC's financial objectives, including long-term returns on capital.
"And we believe that as the industry consolidates, there's going to be clear winners. And those winners are going to be defined by those who capture market share, who achieve scale, and therefore, as a result, who capture the majority of the profit pool," he said. "So what you're hearing is that we're investing in growth drivers to accelerate our share gain. We're building the infrastructure now that's going to support this next leg of growth, and that's going to give us the scale that we need, and hence, allow us to achieve the kind of profitability that we want."
Ecommerce is a huge part of MSC's growth plans. Ecommerce is growing substantially as a percentage of sales and a new platform the company has put in place is "working well and getting great customer feedback," Gershwind noted.
Gershwind also said MSC will continue its sales force expansion compared to fiscal 2013 when sales headcount was basically flat. The company added roughly 2 percent to its sales staff in its fiscal fourth quarter and will accelerate its sales force expansion unless there is an economic downturn. In all, MSC says it expects to expand its sales force by 5 to 7 percent over fiscal 2013 levels.