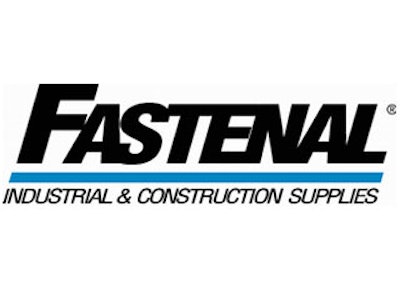 In releasing its second quarter earnings report, Fastenal, one of the largest industrial/construction distributors in the country, also said it will close 45 stores in the second half of this year.
The decision was reached after company executives discussed whether to consolidate some businesses into fewer locations in some markets and identify where more stores should be opened as local market conditions dictate. These are not the first closings that Fastenal has undertaken.
"We have closed approximately 85 stores in the last ten years — not because they weren't successful, but rather because we felt we had a better approach to growth," the company said in a statement. "In the first six months of 2014, we have continued to challenge our approach and closed 20 stores (all but four of these locations were in close proximity to another Fastenal store). In the second quarter of 2014 we took a hard look at our business and identified another 45 stores we intend to close in the second half of 2014 (all but eight of these locations are in close proximity to another Fastenal store). Several items we think are noteworthy: the group of stores we identified for closure in the second half of 2014 was profitable in the first quarter of 2014 (our analysis measurement period); they operated with average sales of about $36,000 per month. We chose to close this group because we felt this was simply a better approach to growing our business profitably."
The company expects sales will not be affected by the closings and impacted employees will have a nearby store in which to work.
"During the second quarter, we accrued up some cost for the future leases related to those facilities and we're moving on to our future. But I think that's a good healthy thing for our organization to do," said Dan Florness, Fastenal's chief financial officer, in a conference call with financial analysts after the company released its earnings statement.
Fastenal has more than 2,600 stores in operation and the company has achieved recognition for opening stores at a rapid rate, particularly in 2007 and 2008. Although the openings have slowed somewhat in recent years, the company eventually expects to have 3,500 stores in the U.S. and North America. During the second quarter, Fastenal closed eight stores. For the first six months of the year, Fastenal opened 17 stores and expects to open approximately 35 to 40 stores in total for 2014.
There obviously have been a number of changes taking place over the past few years that have required Fastenal to make changes as to the markets it serves and the customers it reaches.
For example, 17 years ago, national contracts business for Fastenal was only four percent, Florness noted. Today, that figure is 44 percent. In addition, years ago fasteners comprised 80 to 85 percent of the company's business. Today the fastener business is half what it once was.
Fastenal recently expanded into the metalworking area and so far is pleased with the results.
"Our metalworking sales are growing well above anyone else that we can get public data on," said Will Oberton, CEO of Fastenal.
The company is convinced that its vending machine business is a key to the company's future growth.
In a prepared statement, Fastenal said that over the last several years its FAST Solutions® (industrial vending) operation has been an expanding component of its business. "We believe industrial vending will be an important chapter in the Fastenal story; we also believe it has the potential to be transformative to industrial distribution, and that we have a 'first mover' advantage."
Added CEO Oberton in the analysts' phone call: "I'm still completely convinced looking at the numbers that vending will be our most efficient and most profitable business overall… for a long period of time; for years to come."
Although Fastenal reported a 10 percent sales increase for the first six months of this year, some investors remain concerned about the company's margins. Fastenal's stock price dropped sharply after the quarterly results were announced.