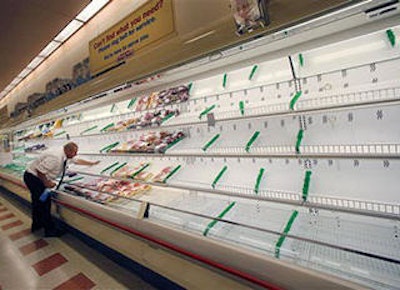 Over the years we have written a lot about the challenges that family-owned businesses face. There was one story about the president of a family-owned company who resigned in protest because his father — who had founded the business — wanted to put four more family members on the payroll. There was another case when the owner of a distributorship called his son into his office on a Friday afternoon and told him he was taking over the business on Monday. The owner retired that afternoon without any succession plan or strategy and the son had to learn the business "by the seat of my pants." The son had only been working for the company a short time.
But nothing — and I mean nothing — competes with the problems and fortunes facing a family-owned grocery chain that played itself out over 40-day period in the Northeast. The battle over control of the company by competing sides of the business has been ongoing for more than 25 years with billionaire cousins battling each other, a courtroom fistfight, allegations of wiretapping, alleged misappropriation of funds, and the attempted blackmail of a judge's clerk that led to two attorneys being disbarred.
This case will be studied for years as to how a family-owned company valued at some $3 billion can almost go out of business because of poor communication, a new management team considered greedy by employees, and an ousted CEO who was loved by his workers. It is one of the biggest labor stories over the past quarter century.
It will also be remembered because of the stand taken by non-union employees who walked off their jobs in protest and insisted that the former CEO be returned to his previous position. Because of that work stoppage, the company lost an estimated $10 million a day as employees refused to work, vendors wouldn't deliver products, and customers refused to shop at the supermarkets.
It also will be an example of what not to do when a crisis hits your company.
For the purposes of this article, we'll use fictitious names for those involved.
The story involves the ownership of a supermarket chain of 71 stores across Massachusetts, Maine and New Hampshire owned by the same family for nearly 100 years. The chain was known for its low prices, great service, and loyal customer base. Its 25,000 employees were not only treated well, but had outstanding benefits that made them the envy of the supermarket industry. The business was run by CEO (fictitious name) John T., an executive who often visited his stores and knew many employees on a first-name basis.
His cousin, Robert, however, got control over the company in June when a member of the board of directors changed his vote. He ousted his cousin, John T., with whom he had been battling for decades, and took the top position. He also decided to distribute $250 million to nine family shareholder members, a move that John had opposed. Robert also indicated he intended to slash costs and increase profits. He immediately fired eight top executives that had been with the company from 20 to 45 years.
The reaction was swift. Two hundred workers walked off their jobs. Other top executives of the company refused to recognize their new boss. Employees from the warehouse, produce section and so many others walked out despite warnings they would be fired. The movement quickly accelerated. Soon thousands of employees were picketing outside stores with signs that read: "We will only work for John T."
Customers, loyal to John T. and the workers, joined them on the picket line and left receipts from other supermarkets pasted on the supermarket's windows. Vendors refused to deliver products and soon the shelves of the supermarket chain were bare.
What was particular significant was that these employees reportedly rebuffed the attempts of some large unions that had attempted to recruit them.
After several weeks of protest, the new company management sold the company to John T. for $1.5 billion.
The company had previously been operated successfully for many years under his direction. Employees were happy, shoppers were happy and the board of directors seemed happy since they declared a reported $1 billion in special dividends over the past 12 years for nine family members. The supermarket employees were paid very well. Experienced cashiers earned $40,000 a year, managers were paid in the six figures and all had a retirement plan that reportedly matched up to 15 percent of salary. Promotions came from within the company. The chain, despite its low prices and higher labor costs, did extremely well.
Lessons Learned
There are a number of lessons that can be learned from this family squabble, according to management experts.
For example, other discontented employees may now look at the supermarket story and think of trying to band together and change their situation, said Thomas A. Kochan, a professor at the Sloan School of Management at MIT.
 "I do think a lot of employees, managers and board members are looking at this and feeling some of these same frustrations and fears, and thinking, 'I'll take some action,'" he  told the L.A. Times.
Here are seven steps some family-owned companies might consider to make sure they don't run into the same problems this chain did.
As an executive, you must be visible to workers. Visit your branches, talk to your employees. Listen to their concerns and let them know you appreciate what they are doing to make the business successful. It worked for John T. One employee said that John T. treated workers as if they were family, not employees.
Visit your top customers as often as possible. Find out how they view you, and what you can do to help them and improve the relationship. John T. did.
Pay your employees well. That doesn't mean you have to break the bank, but give them above-competitive salaries. It costs more to recruit, hire and train employees than it does to retain experienced workers. Many of those supermarket employees have been with the company for more than 30 years.
Inspire loyalty in both your employees and customers. "John T. is the head of our family," read one protest sign carried by a supermarket employee.
When troubles erupt in a family business, seek arbitration or mediation. It will save costs in the long run.
As much as possible, keep any family acrimony out of any decision making. Focus on the business and not personalities.
Finally, if your company ever faces a crisis situation, respond immediately after you have a strategy in place. Robert's side of the family never gave any reason as to the management change and what it would mean to the future of the company. Supporters of John T. controlled the messaging and the media quickly seemed to join their cause.
Jack Keough is contributing editor of Industrial Distribution. He can be reached at john.keough@comcast.net.