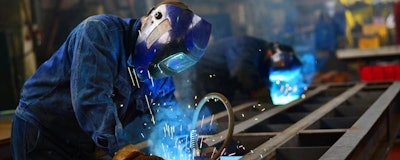 Economic activity in the manufacturing sector expanded in November, and the overall economy grew for the 115th consecutive month, say the nation's supply executives in the latest Manufacturing ISM Report On Business.
The report was issued today by Timothy R. Fiore, CPSM, C.P.M., Chair of the Institute for Supply Management (ISM) Manufacturing Business Survey Committee.
"The November PMI registered 59.3 percent, an increase of 1.6 percentage points from the October reading of 57.7 percent. The New Orders Index registered 62.1 percent, an increase of 4.7 percentage points from the October reading of 57.4 percent. The Production Index registered 60.6 percent, a 0.7 percentage-point increase compared to the October reading of 59.9 percent. The Employment Index registered 58.4 percent, an increase of 1.6 percentage points from the October reading of 56.8 percent. The Supplier Deliveries Index registered 62.5 percent, a 1.3-percentage point decrease from the October reading of 63.8 percent. The Inventories Index registered 52.9 percent, an increase of 2.2 percentage points from the October reading of 50.7 percent. The Prices Index registered 60.7 percent, a 10.9-percentage point decrease from the October reading of 71.6 percent, indicating higher raw materials prices for the 33rd consecutive month.
"Comments from the panel reflect continued expanding business strength. Demand remains strong, with the New Orders Index rebounding to above 60 percent, the Customers' Inventories Index declining and remaining too low, and the Backlog of Orders Index steady. Consumption strengthened, with production and employment continuing to expand, both at higher levels compared to October. Inputs — expressed as supplier deliveries, inventories and imports — gained as a result of inventory growth. Supplier delivery easing improved factory consumption as well as inventory growth, and import expansion was relatively stable. Lead-time extensions continue, while steel and aluminum prices are declining. Supplier labor issues and transportation difficulties are at more manageable levels, but they continue to limit production potential.
"The expansion of new export orders was stable and at a recent historical low. However, four of six major industries contributed, down from five in October. Prices pressure continues, but at notably lower levels than in prior periods. The manufacturing community continues to expand, with November adding positively to the three-month rolling PMI® average," says Fiore.
Of the 18 manufacturing industries, 13 reported growth in November, in the following order: Computer & Electronic Products; Plastics & Rubber Products; Paper Products; Textile Mills; Electrical Equipment, Appliances & Components; Miscellaneous Manufacturing; Machinery; Transportation Equipment; Chemical Products; Food, Beverage & Tobacco Products; Apparel, Leather & Allied Products; Furniture & Related Products; and Petroleum & Coal Products. The three industries reporting contraction in November are: Printing & Related Support Activities; Nonmetallic Mineral Products; and Primary Metals.
Manufacturing at a Glance — Novemeber 2018
Index
Series Index Nov
Series Index Oct
Percentage Point Change
Direction
Rate of Change
Trend* (Months)
PMI
59.3
57.7
+1.6
Growing
Faster
27
New Orders
62.1
57.4
+4.7
Growing
Faster
35
Production
60.6
59.9
+0.7
Growing
Faster
27
Employment
58.4
56.8
+1.6
Growing
Faster
26
Supplier Deliveries
62.5
63.8
-1.3
Slowing
Slower
26
Inventories
52.9
50.7
+2.2
Growing
Faster
11
Customers' Inventories
41.5
43.3
-1.8
Too Low
Faster
26
Prices
60.7
71.6
-10.9
Increasing
Slower
33
Backlog of Orders
56.4
55.8
+0.6
Growing
Faster
22
New Export Orders
52.2
52.2
0.0
Growing
Same
33
Imports
53.6
54.3
-0.7
Growing
Slower
22
OVERALL ECONOMY
Growing
Faster
115
Manufacturing Sector
Growing
Faster
27
Manufacturing ISM Report On Business data is seasonally adjusted for the New Orders, Production, Employment and Supplier Deliveries Indexes.
*Number of months moving in current direction.
What Respondents are Saying
"Shortages, longer lead times and capacity constraints [particularly in the electronic components marketplace] and tariffs continue to strain the supply chain and disrupt normal business practices and activities." (Computer & Electronic Products)
"Seeing a number [of] areas of slowdown that are concerning: truck market loosening [and] ISO depots full of empty containers, all signs of decreasing business activity." (Chemical Products)
"Production continues at increased levels." (Transportation Equipment)
"Labor shortages in our area are affecting production volumes." (Food, Beverage & Tobacco Products)
"Trade tariffs and commodity increases have greatly affected our ability to remain competitive in the market." (Machinery)
"Business [orders] steady. Many customers [moving] orders up due to price increases [from commodity costs and tariffs]." (Furniture & Related Products)
"Business remains strong. Tariffs impact is fully reflected in Q3 results, and initiatives are underway to move work out of China into other low-cost countries." (Miscellaneous Manufacturing)
"A lack of experienced workers is having an impact on production, which impacts sourcing due to the skills gap in the manufacturing trades; particularly computer numeric controlled machinists, but also assemblers and welders. The challenge is meeting customer-delivery requirements for new and repaired equipment." (Fabricated Metal Products)
"Steel tariffs continue to put upward pressure on downstream materials (even when sourcing steel domestically). Long-haul trucking market seems to be normalizing after the implementation of the electronic logging requirements. Oil volatility is also beginning to make its way through downstream materials." (Petroleum & Coal Products)
"Continuing to increase imports in order to receive material in by the end of the year to avoid potential 25-percent tariffs." (Nonmetallic Mineral Products)