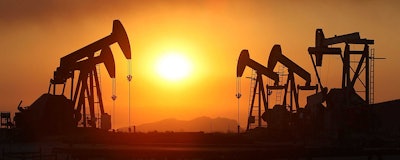 The U.S. combined oil and gas rig count has been growing nearly every week since early November, and last week it passed the milestone 1,000 mark for the first time in 3 years.
The active U.S. rig count gained 10 last week, growing to 1,003. It's the first time in quadruple digits since April 2, 2015 (1,028), a point in which the count was in the midst of a massive decline after peaking at 1,931 multiple weeks during November 2014. The price of oil began its multi-year nosedive that prior June, leading to rig shutdowns across the globe, and especially in the U.S. That rig count plummeted steadily over the next two years, bottoming out at 404 in May 2016. It's been on a steady rebound since, all the way to last week's gain.
U.S. rig count has increased by 74 so far through 14 weeks of 2018, which has included nine weekly gains and four decreases.
Friday's combined rig count — provided by oilfield services provider Baker Hughes — was up 164 year-over-year (YoY), or 19.5 percent.
The U.S. gained 11 oil rigs last week, pushing its count to 808. Friday's oil rig count was up 136 YoY, or 20.2 percent. The U.S. gas rig count remained the same last week at 194, which was up 29 YoY, or 17.6 percent. The U.S. miscellaneous rig count decreased by one to one.
Of last week's combined rig count, Oklahoma added five, New Mexico added three and Texas and Kansas each addee two, while North Dakota, Ohhio, Utah and West Virginia each added one. Louisiana lost a pair, while Alaska, Colorado, Pennsylvania and Wyoming lost one apiece.
Below is the daily U.S. rig count provided by Drillinginfo on its DailyRigcount.com — a microsite that utilizes data from GPS tracking units and publicly-reported information to monitor oil and gas drilling rig movements in the U.S. Unlike raditional rig counts — such as those from Baker Hughes — typically define a rig as active only when it is "turning to the right," and have been released on Friday afternoons every week since 1944, whereas DailyRigCount defines a rig as active from the time a GPS tracking unit identifies it at a permitted oil and gas drilling location until the time it leaves, and is released daily.
Canada/North America
Canada's seasonal rig count decline continued last week, as the nation's count had another considerable fall of 23 after losing 27, 58 and 54 rigs the previous three weeks, respectively. That moves Canada's rig count to 111 as of Friday, which is down 21 YoY, or 15.9 percent. That 23-rig loss was all from oil, as Canada's oil rig count of 48 is now only up by six YoY (+14.3 percent), and its gas rig count of 63 is down by 27 YoY (-30.0 percent).
Friday's North American combined rig count of 1,114 decreased by 13 from a week earlier and was up by 143 YoY, or 14.7 percent.
Oil Price Update
The price of WTI Crude oil held mostly steady above the $63 last week before a notable decline Friday. Oil opened April 2 at $65.16 and quickly fell, closing the day at $63.01. Oil hovered about 50 cents higher throughout the next three days, despite a brief fall to $62.08 on Wednesday. Oil checked in at $63.54 Friday morning before plunging below the $62 mark by midday, closing the workweek at $62.06. Oil opened Monday, April 9 at $62.29 and recovered to $63.00 as of 9:06 a.m. CT.