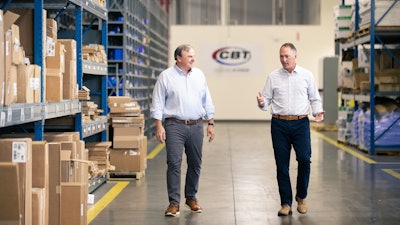 If 2021 had been a normal year, CBT Company would likely have celebrated its 100th anniversary with the traditional customer and employee events you'd expect. But 2021 wasn't normal. Nonetheless it was celebrated, albeit more quietly, with CBT reflecting on its successes and cheering the opportunities that lay ahead.
Although the Cincinnati-based industrial automation solution provider battled insidious variables along with everyone else, its efforts were boosted by a record-breaking 2020 — an achievement difficult to imagine when CBT's peers, in many cases, posted double-digit losses.
Jay Stahl, CBT's President, characterized the company's approach as "truly being open to new and creative options." Less modestly, perhaps, the reason CBT found so much success throughout the pandemic years came down to a legacy culture that values customer engagement and ferreting out solutions by following a seemingly simple mantra: "don't say no."
Strong Start, Strong Finish
CBT's 2020 Q1 was record-breaking, and while COVID-19 arrived hot on its heels, the company's IT infrastructure served as a sturdy backbone to enable a seamless transition to remote work.
Connection, however, was one thing; flexibility was another. CBT was determined not to "go dark" like many other companies who were battling shutdowns and resource issues, a strategy that served the company well as supply chain bottlenecks persisted into the following years.
For CBT, supply challenges are something the company can proactively address because, Stahl said, "we are built for this." He described internal messaging to discourage team members from throwing up their hands, instead asking them to own problems as they come. Said Stahl, "You are the supply chain. Get over it!"
Instead of succumbing, CBT's staff looked for opportunities, something Stahl believes they were able to find because of a roster deep in technical expertise. If options A, B and C are unavailable, he said, CBT's experts know more than just part numbers and are ready and able to recommend application-specific replacements — not to mention, CBT doubled its inventory in the past few years, a significant investment that aimed to help bridge the gap from supply chain issues and lessen the impact on their customers
As an added benefit, CBT has long used Customer Care Specialists to track open orders — a role Stahl called challenging anytime, but much more so today, when employees are charged with hunting down orders with the customer's timelines in mind.
"Two years ago, when 5% of items were late it was a difficult job. But when 25% of items are late, it's a massive undertaking. When your backlog now is quadruple what it has ever been in company history, managing customer expectations is much more of a challenge," Stahl said.
He added that the company more than doubled its number of Customer Care Specialists, further exhibiting its reputation among suppliers as relentless, dogged pursuers of information. "As I have said to our suppliers in the past, the item or information we are looking for is not for my machine, it's for my customer's machine. We are providing them with the information they need to run their business. We're working on our customers' behalf, and that's a different mentality," Stahl said.
Don't Try to 'Out-Amazon' Amazon
It's this relentless approach to customer service that CBT believes is key to moving forward. Despite an industry-wide need for web-based solutions – something CBT offers – the company works to differentiate itself from Amazon's model with its ability to go deeper into customer challenges to deliver full-blown, end-to-end solutions.
"In a purely digital model, there is no one to help you with a problem," said Stahl. "You are a number on an electronic help ticket, left crossing your fingers. CBT takes a multi-disciplinary approach to team support of our customers." CBT's customer solutions instead look more like engineers at the design table, strategic business reviews and developing plans to secure networks on the plant floor. Stahl said competitor focus on reducing headcounts and locations, along with "increasing their reliance on selling on a part number alone" leads to a lack of differentiation in the marketplace, and it's not a road that CBT wants to go down.
This led the company to orient itself in a unique way that's distinct from pure-play, transactional e-commerce. CBT offers features and benefits that are specific to key accounts, offering certain customers access to open order reports, projects in-process or in-stock positions — even down to vendor inventory in some cases. But in tandem with this type of data, there's a need for a more consultative approach that answers customer questions.
Stahl added that CBT will never "out-Amazon Amazon," and that's by design. "Amazon is a powerhouse logistics company and they have built a successful digital business," he said. "CBT is a people company. Many of our competitors want to convert to an Amazon or Grainger business model, moving away from a people model." CBT believes there is no one-size-fits-all solution. He explained, "It's our job to understand the why – not just the what. CBT understands the plant floor better than anyone; businesses don't have the time or money not to get it right the first time."
Driving Industry Change Through Action
With talent at the forefront of its business strategy, CBT is motivated to ensure it offers a workplace culture that goes far beyond a paycheck. Despite high retention rates, the organization still continues seeking out ways to further improve workplace culture. Remaining true to one of CBT's published values of being "team-focused and inclusive", there is an active push to shine a spotlight on the role of women in the manufacturing industry. This initiative has been spearheaded by Elise Ring, CBT's Vice President of Marketing.
Said Ring, "We all must realize that it's everyone's job to ensure that 50% of the workforce – women – have the opportunity and clear view of the paths available in manufacturing, from the plant floor to C-level."
Key to this initiative is CBT's support of the industry group Women in Manufacturing, founded by Allison Grealis. Ring described the effort as a way for the company to walk the talk when it comes to promoting the opportunities in a workforce where, industry-wide, women serve in only one of four manufacturing leadership positions.
While progress has been made across the industry, Ring and Stahl still felt the need to wave the flag of this underrepresented group by growing awareness and driving bigger conversations. At this fall's "More Than MFG Expo", hosted by CBT, a full day will be dedicated to showcasing thought leadership and industry trailblazers with a focus on how the industry is changing. Grealis will take part as a keynote, kicking off the portion of the event highlighting women in the manufacturing industry.
Further Opportunities
As the industry largely laments a widespread labor gap as an impediment to success, Stahl looks to better support CBT's customers with increased services offering and engineering services to help bridge this gap.
"Labor gaps will continue to drive the need to implement technology and automation solutions, and the companies that can provide a turnkey solution will win the business," he explained. "We lean heavily into services to fill the knowledge gap in the market and services offered will continue to grow because that is what our customers will need to be successful."
Any threat of internal knowledge gaps, meanwhile, is quelled by a culture of collaboration. An open-door policy at every level creates a feedback loop and custom developed CRM system leverages technology to enable communication and collaboration as the size of the company continues to grow.
When his father first bought CBT in 1975, Stahl said, the half-dozen team members shared a beer at the end of the day and swapped stories in order to keep information out in the open; Stahl described it as "the original CRM system." Today, he added, "we are a collective of talent and experience mixed with curiosity. It makes for lots of idea-sharing, problem-solving and a constant rumble of discussion across offices. Everyone is hungry to learn and grow."
And as talent grows, so will CBT — but not in a piece-price game. As purveyors of item numbers expand their reach on the web, you will still always be able to find a human expert at CBT who is ready and willing to assist with the hard questions. That kind of depth and consistency propels the company forward — and was boosted by the pandemic. Said Stahl, "While others were shutting down and laying people off, we used it as a time to pick up speed, recruit new talent and learn new tools. We leaned in hard to our business when others were slowing down. I believe that customers will remember the partners that were by their side as they worked through the challenges."