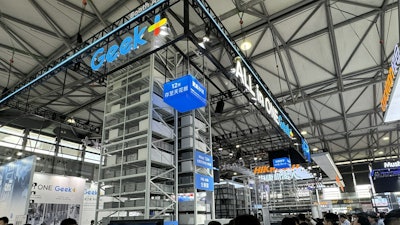 Geek+
Geek+ has unveiled the tallest Mobile ASRS system, designed to support warehouse automation up to 12 meters (40 feet) in height.
Introduced to the public at CeMat Asia alongside the company's full goods-to-person portfolio, the new robotic solution has already been installed in sites in North America and Asia, and is under deployment for several major global retailers.
The tote/case-to-person system acts as a Mobile ASRS system where mobile robots do automated storage and retrieval of totes for picking, putaway and return handling. Deployed in over 20 countries, this system stands out as the most flexible high-storage solution on the market, thanks to mobile robots that operate without fixed equipment.
In addition, this system can be combined with Geek+'s Shelf-to-Person system, a unique offering that enables customers to choose the solution that will fit their specific needs. This hybrid system supports the storage and picking of various sized items on racks, pallets, and totes within a highly flexible and adaptable layout.
The tall robot operates within the aisles, focusing on vertically storing and retrieving totes or cases. It then transfers them to small and fast picking robots that navigate beneath the racks to deliver the items to picking stations. The coordination between these robots results in a flexible and space-saving picking and storing solution for warehouses with heights of up to 12 meters. This newest addition to the Geek+ goods-to-person family employs suction cups, providing enhanced storage density compared to other solutions in the market.
Geek+'s systems are managed by a single software platform that handles multiple robot types for real-time path planning, optimal traffic management, and task assignments, making it ideal for large-scale deployments. The software integrates seamlessly with major warehouse management systems for easy deployment and integration.