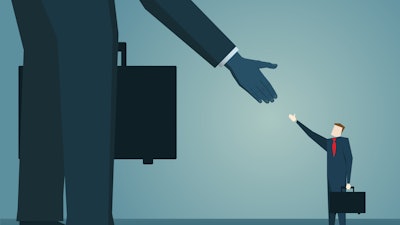 iStock
Research from Gartner shows that 86% of B2B customers "expect companies to be well-informed about their personal information," and McKinsey found that B2B buyers want to be able to effortlessly shop across a variety of channels—and they're not afraid to jump ship if their suppliers don't live up to their standards.
While smaller distributors might not be able to compete with larger companies' economies of scale, the advantage of a smaller distributor lies in personal experience. Rather than look at these expectations as roadblocks, consider them incredible opportunities to do what you do best: manage relationships and provide customers with exactly what they need at the right time.
In one study, 74% of business buyers said they'd pay more for a better shopping experience. This mirrors your personal life. How many of us would rather pay a little extra to unlock additional value? One study found that 65% of buyers are more than willing to pay a premium price for a high-quality customer experience.
You can charge a higher price—and increase margins—when you have consultative, proactive sales representatives and provide a slam-dunk omnichannel experience.
Being small isn't a disadvantage when using artificial intelligence and digital tools. It's an asset.
A higher-quality customer experience can make your company the obvious choice over even the largest organizations in your industry.
What Makes a Good Customer Experience?
Shopping online is convenient and simple, so unsurprisingly, it's becoming increasingly popular in the B2B world. Consider the last time you had to call customer service about an issue. Did you expect the person on the other end to know about your order, have your information handy and solve the problem quickly?
Those same demands are transferring into the B2B space. According to McKinsey, 72% of B2B customers want to interact and purchase wherever it's most convenient for them — e-commerce site, at the counter, through a sales or customer service rep—and to receive always-on customer support in real-time. They also want a consistent experience across channels.
Suppliers need to have customer information at the ready because if the transition between channels isn't smooth, customers will notice—and the outcome won't be good. That same McKinsey report stated that if these expectations aren't met (if the customer support lags, the transitions between channels are choppy or the experience is less-than-stellar), your customers will actively search for another supplier.
Customer loyalty is always up for grabs.
While large operations struggle to personalize their services and offerings, smaller distributors have the advantage. You can provide an authentic, boutique-style of service, and when you use technology, you can take this personalized experience to the next level.
Equipping a Proactive Salesforce
Let me share a story. I received a phone call from my friend, a frustrated B2B customer. He complained about his supplier's poor, impersonal service—and lack of consistency in shipments. My friend spent more than $2 million with 35 distributors to get his company running. Yet every time he needed to order something else, the rep on the other end didn't know who he was, or what he already ordered, and asked for the same contact details he'd given over and over again at previous interactions. It felt like he was starting from scratch.
To make matters worse, my friend ordered equipment only to realize when it arrived that the machine required a missing part to work. Had the sales rep known that the product needed an additional part to function—and offered to add it to my friend's original order—he could have avoided a costly, week-long delay in operations.
What sets a successful sales rep apart is their knowledge and anticipation of their customers' needs. They know when the customer needs to reorder, can provide helpful product suggestions, offer complementary upsell and cross-sell recommendations, and always call at the right time.
It's hard to fault distributors' sales reps for not knowing — they're dealing with millions of SKUs and thousands of customers. To anticipate customers' needs well, sales reps need artificial intelligence (AI). You can no longer expect a rep to manually track everything and provide a personalized, high-caliber customer experience. AI can help reps see key customer data and provide relevant product recommendations on the phone so they can make tailored suggestions, close deals more efficiently and promptly move on to their next call. Superstar sales reps can help boost the average lifetime customer value and help you avoid losing business to competitors. The good news is with the right tools, you can turn any rep into a star seller.
Adopting Omnichannel (Without Breaking the Bank)
Omnichannel is increasingly important to B2B customers. McKinsey found that customers want more from their omnichannel experiences: more channels, more convenience and more personalization. Again, B2B customers are demanding in their work lives all the perks they have in their personal shopping lives (and who can blame them?).
This is another area where smaller distributors can come out on top. Massive organizations often struggle to successfully implement omnichannel—too many parts to wrangle together. But smaller, more flexible businesses can use AI to adopt this ecosystem, differentiating themselves from the big wigs—without breaking the bank.
Investing in a single system allows all employees, no matter what department they are in, to have access to the same, accurate information about a customer. This "single source of truth" ensures that everyone is working with the same information and can make informed decisions. But more than that, AI reveals patterns in buying history and browsing preferences; provides reorder alerts; and highlights cross-sell and upsell opportunities to everyone, too. When plugged into all your important data sources, AI-powered technology can break down the silos across the organization to help smaller distributors provide a personalized, seamless omnichannel experience for their customers.
Rather than see your size as a limitation, switch the narrative. You're nimble, you're personable and you're capable of making great strides (and great profits) by adopting AI to create a unique omnichannel experience.
Think of it this way: large distributors are like 18-wheelers that can't easily change course if they encounter a roadblock, whereas smaller distributors are like sports cars that can stop, turn and adjust quickly. You might not be the same as the big guys in numbers, but with the right technology at your fingertips, you can outmaneuver even your largest competitors.
Benj Cohen is the founder and CEO of Proton.ai.