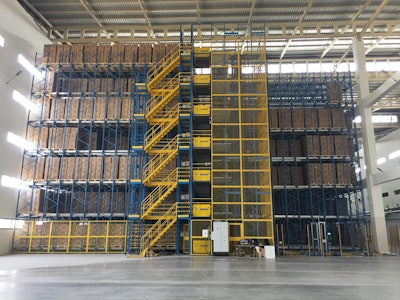 Signode Industrial Group, a leading manufacturer of a broad spectrum of packaging consumables, tools, software, and equipment to optimize end-of-line packaging operations and protect product in transit, will introduce its StorFast Warehouse Automation technology in line with its industry-leading Octopus Compact 20 TSI automatic rotary ring stretch wrapper to North American manufacturers at ProMat 2019.
"We are excited to introduce StorFast to the North American market," says Ignacio Ochoa, sales director of StorFast Warehouse Automation for Signode Industrial Group. "Our clients worldwide are enjoying great results with StorFast—for optimizing existing facilities or new buildings as well as significantly reducing power consumption in comparison to other types of storage and retrieval systems. Displaying it with the Octopus stretch wrapper further reinforces our ability to offer fully-integrated warehousing solutions."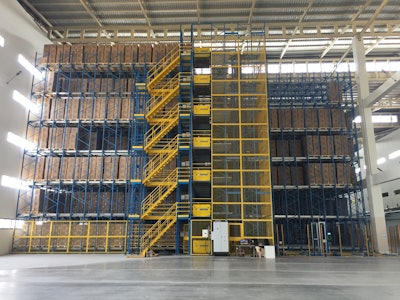 The StorFast AS/RS system comprises powered carts that automatically and quickly move pallets in and out of storage positions in the warehouse. StorFast's modular designs offer increased flexibility, maximum storage capacity, and a very small footprint. The reduced footprint and The strength of the company's portfolio provides customers with expertise in every part of the end-of-line packaging process: packing, bundling, unitizing, warehousing, and shipping uniquely qualifying Signode Industrial Group to help businesses improve the efficiency and effectiveness of their end-of-line systems.
Our trusted brands are sold around the world include:
Acme Packaging, Angleboard, Bader Cargo Pak, Cader, Caretex, Celcor, Dacro, Down River, Fleetwood, GaleWrap, Haloila, H.Bohl, Josef Kihlberg, Kiwiplan, Lachenmeier, Little David, Lock N' Pop, Loveshaw, Mezger Heftsysteme, Mima, MIP, Muller, Multi-Wall, Octopus, Orgapack, PDM, Reddi-Pac, Shippers Products, Signode, Silawrap, Store Fast, Strapex, and Yellow Jacket.
Signode Industrial Group is a division of Crown Holdings, Inc. Crown Holdings, Inc., through its subsidiaries, is a leading global supplier of rigid packaging products to consumer marketing companies, as well as transit and protective packaging products, equipment and services to a broad range of end markets.