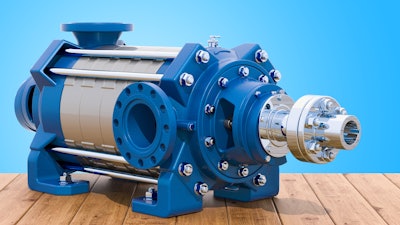 iStock
BURLINGTON, Mass., and NEW YORK — CIRCOR International Inc., one of the world's leading providers of mission-critical flow control products and services for the industrial and aerospace & defense markets, announced Monday that it has entered into a definitive agreement to be acquired by investment funds managed by KKR, a leading global investment firm, in an all-cash transaction valued at approximately $1.6 billion, including the assumption of debt.
Under the terms of the agreement, KKR will acquire all outstanding shares of CIRCOR common stock for $49 per share in cash, representing a 55% premium to the company's closing stock price on June 2.
"Our agreement with KKR marks the successful culmination of a strategic review process conducted by the board, supported by external advisors and the management team," said Helmuth Ludwig, CIRCOR's board chair. "As part of our comprehensive strategic review, initiated in March 2022, we engaged in extensive dialogue with a number of parties that expressed interest in acquiring all or parts of the company. We believe that this transaction and the immediate cash value it will provide to CIRCOR's stockholders best achieves the Board's goal of unlocking the significant incremental value within CIRCOR for its stockholders. This transaction is a testament to the dedication of CIRCOR's talented team and we are grateful for their tireless efforts and commitment to making CIRCOR an industry leader."
"This transaction will create significant value to our stockholders, reflecting the dedication of our team in executing on our strategic priorities, the strength of our family of brands and the deep relationships we have built with our customers," said Tony Najjar, president and chief executive officer of CIRCOR. "We believe that having the support and resources of an experienced investor like KKR will help us expand our presence in the flow control space and support our mission to deliver the highest-quality products and services to our customers, many of which play a critical role in protecting national security."
"CIRCOR stands out as an innovative and trusted solution provider, manufacturing mission-critical flow control products for industrials, aerospace and defense customers. We believe the company is in a strong position to grow and benefit from the attractive tailwinds in those markets," said Josh Weisenbeck, a KKR partner who leads KKR's Industrials investment team. "We look forward to working closely with Tony and his talented team to drive further growth and value through new product development, aftermarket expansion, strategic acquisitions and allowing all CIRCOR employees to have the opportunity to participate in the benefits of ownership of the company."
KKR is making its investment in CIRCOR through its North America Fund XIII. The investment builds on KKR's recent experience investing in flow control technologies and aerospace and defense industry suppliers globally, including Ingersoll Rand, formerly known as Gardner Denver, Flow Control Group, Hensoldt and Novaria Group.
Following the close of the transaction, KKR will support CIRCOR in expanding its equity ownership program to allow all employees to have the opportunity to participate in the benefits of ownership of the company. This strategy is based on the belief that employee engagement is a key driver in building stronger companies. Since 2011, KKR portfolio companies have awarded billions of dollars of total equity value to over 50,000 non-management employees across nearly 30 companies.
The board of directors of CIRCOR has unanimously approved the transaction and recommends that CIRCOR shareholders vote in favor of the transaction. The transaction is expected to close in the fourth quarter of 2023, subject to the receipt of approval from the company's shareholders and certain required regulatory approvals, as well as the satisfaction of other customary closing conditions.
The board will have the right to terminate the merger agreement to enter into a superior proposal, subject to the terms and conditions of the merger agreement. Once the transaction is complete, CIRCOR will be a privately held company wholly owned by KKR's investment funds and will no longer have its common stock listed on any public market.