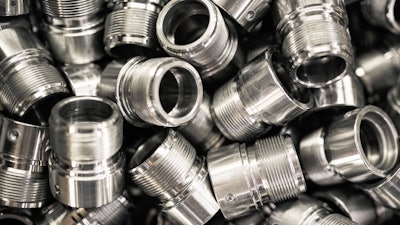 iStock
CLEVELAND — Metalforming companies predict a slight uptick in business conditions in the coming months despite a drop in current average daily shipping levels, according to the August Precision Metalforming Association Business Conditions Report.
Prepared monthly, PMA's report provides an economic indicator for the next three months of manufacturing, sampling 110 metalforming companies in the U.S. and Canada.
PMA's August report shows that 18% of metalforming companies expect an increase in general economic activity in the next three months compared to 11% in July, while 53% predict no change in activity compared to 55% in July; 29% forecast a decrease in activity, down from 34% last month.
Metalformers also anticipate a modest improvement in incoming orders, with 26% of survey respondents expecting an increase in orders during the next three months compared to 18% in July, 46% predicting no change — the same percentage reported last month — and 28% forecasting a decrease in orders compared to 36% in July.
Current average daily shipping levels dipped in August for the second straight month; 42% of responding companies reporting a decrease in shipping levels. up from to 28% in July. Only 16% reported an increase in shipping levels — down from 19% in July — and 42% reported no change compared to 53% last month.
"The modest increase in business activity predicted by metalforming manufacturers in the August report is a positive signal that our members remain resilient despite inflation and other issues that impact the supply chain," said PMA President David Klotz. "In my visits to our members' facilities, I have heard a growing concern about a possible labor strike by the United Auto Workers. A slowdown caused by a strike would negatively impact our members, who are major suppliers to the auto sector. In addition, we are watching reports that US Steel is looking for a buyer. Such a sale could affect steel supplies and availability, as it already is a tight market due to limited domestic suppliers of flat-rolled steel and a range of trade restrictions on imports."
Lead times rose slightly in August, with 11% of metalforming companies reporting an increase in lead times compared to 7% in July. Nine percent of companies had a portion of their workforce on short time or layoff in August — increasing from 5% in July — while 46% of companies are currently expanding their workforce compared to 42% last month.