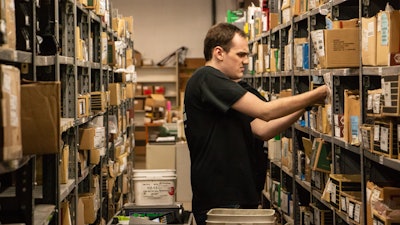 Packer Fastener
The latest Pandemic Revenue Index from Indian River Consulting Group showed incremental growth for the holiday-shortened week of Nov. 23-27 and overall persistent steadiness despite major variation in its components.
The index — aimed to provide a snapshot of how industrial distributors' sales have fared during the pandemic compared to a year earlier — registered a mark of +4.3 for Nov. 23-27, meaning that for the 13 distributors surveyed, their average sales were up 4.3 percent year-over-year. It follows readings of +3.6, -2.2, +8.6 and -0.4 dating back to late October.
In the latest index, eight of the 13 respondents reported increases, with four of them well above 20 percent. Of the five companies reporting declines, the largest was greater than 50 percent, which IRCG partner Mike Emerson noted hasn't occured since April.
"Not sure if it was the short week, but last week saw the biggest reported variance in sales growth since July," Emerson said.
IRCG would like to increase the sample size for the PRI, so if you would like to include your company, reach out to IRCG partner Mike Emerson at memerson@ircg.com.
The chart below shows the percent change in sales in 2020 compared with the same week in 2019, unadjusted for additional selling days for the week of July 4 and Labor Day: