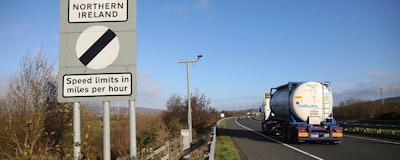 DUNDALK, Ireland — Families and business owners near the Irish border that separates the United Kingdom from the rest of the EU are watching in apprehension as political chaos in London threatens to torpedo a Brexit deal that aims to avoid a return of customs checks and possible sectarian violence to the region.
The border between the U.K.'s Northern Ireland the European Union's Republic of Ireland is currently unpoliced and invisible thanks to an EU rule that allows people and goods to travel freely. The main difficulty in the Brexit talks has been how to not disturb that liberty, which has helped to ensure peace since 1998.
The big fear in this region is that Prime Minister Theresa May's Brexit plan, which aims to safeguard an open border, will fall apart and the U.K. will leave the EU with no deal on future relations. Overnight, that could bring back customs checks and police watch-points.
"I'd be horrified - absolutely horrified - if there was some sort of border," said Jim Deary, who lives in Dundalk in the Republic of Ireland and, at the age of 95, can recall the violence that plagued the region for decades.
Just across the invisible border, which is now physically represented by nothing more than a placid river, the sentiment is much the same.
"If this falls, Britain is facing, and Northern Ireland is facing, absolute chaos," says Conor Patterson, the CEO of an agency that promotes economic growth in Northern Irish border regions of Newry and Mourne. "This is not a theoretical risk, these are real risks."
In Northern Ireland, Catholic and Protestant communities remain divided decades after 30 years of conflict claimed around 3,700 lives. The peace agreement signed in 1998 provides people with the freedom to identify as Irish or British, or both. Having a border could rekindle identity politics and, potentially, violence.
May's deal involves a common customs arrangement for the U.K. and the EU, eliminating the need for border checks, with some provisions that are specific to Northern Ireland. Pro-Brexiteers say that would leave the U.K. too close to the EU, taking its rules for years, and some are trying to get rid of May — as well as her deal, which is due to be voted on in Parliament.
Economically, this region has a lot to lose from a return of tariffs and customs checks.
In the days of hard borders, trade between the north and south was a fraction of what it is today. It took truck drivers hours to get cleared and across the other side.
On average, commercial vehicles cross the border 13,000 times each day. Some go back and forth several times in a single day. So do ships carrying goods to and from the U.K. and the Republic of Ireland. An estimated 30,000 people cross the border every day.
The dividing line stretches for 500 kilometers (312 miles) and is dotted with over 250 official road crossings, more than on Europe's entire eastern flank.
For entrepreneurs who founded and grew their businesses here, taking advantage of the highway connecting Dublin to Belfast, the return of border checks is unthinkable.
Paddy Hughes has a company selling horse supplements and his factory is smack on the border, on the north side. If you walk out left from his gate you're on the south side.
He has already felt an impact from Brexit, with sales down 35 percent as buyers in the U.K., where the pound has fallen sharply since the 2016 Brexit vote, worry about the future.
"People are unsure how to spend their money, whether to spend their money, where their next money is coming from, how much their money is going to be worth, how much things are going to cost in the future, whether they will have a job," he says.
Some vestiges of the old borders are visible outside Newry, where weeds grow tall around an abandoned customs clearance post where goods used to be checked. Graffiti now covers the metal gates of the inspection booths.
Looking back into the past, Deary recalls when as a child he would go swimming at a spot across the border and had to face border guards.
"It was difficult. Cars were searched and you were asked for identity," he says. "Since the borders (are open) it is terrific."