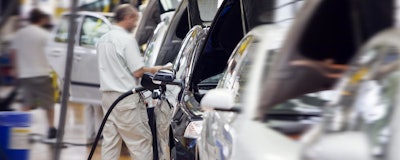 WASHINGTON — U.S. factories grew at a faster pace in August as American industry continues to show robust health.
The Institute for Supply Management, a trade group of purchasing managers, said Tuesday that its manufacturing index jumped last month to 61.3 from 58.1 in July. Anything over 50 signals growth, and U.S. manufacturing is on a 24-month winning streak. Sixteen of 18 manufacturing industries expanded in August, led by makers of electronic equipment, clothing, textiles and paper products.
New orders, production and inventories all grew faster in August. And factories stepped up hiring.
Manufacturers are coping with labor shortages and supply disruptions stemming from ongoing trade disputes with China, Canada, Mexico and Europe. Among other things, U.S. tariffs on imported steel and aluminum are raising costs for many manufacturers.
Nearly half the companies that responded to the survey expressed concern over trade and tariff uncertainty, said Timothy Fiore, chair of the group's manufacturing survey committee.
Companies are doing their annual planning now, Fiore noted, and if managers conclude that tariffs are making the materials they import too costly, "They're going to look for other options," he said.
"Uncertainty is the biggest enemy of business," Fiore, who is chief procurement officer at transportation company Ryder System Inc., said in a telephone interview.
Factories so far have been able to shrug off a substantial rise in the value of the dollar against major currencies since mid-April. A stronger dollar makes U.S. products more expensive in foreign markets.
The overall economic backdrop, however, remains healthy. The U.S. economy, fueled in part by tax cuts enacted in December, expanded in the second quarter at a 4.1 percent annual pace, the fastest since 2014.