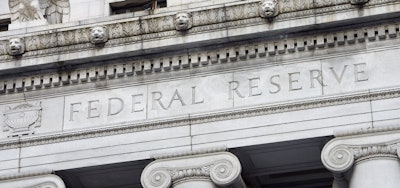 WASHINGTON (AP) — When the Federal Reserve wraps up its latest meeting, it will likely point to strong economic growth, low unemployment and rising inflation as reasons to stay on a path of gradually lifting interest rates. It is unlikely, however, to make any interest rate moves Wednesday.
The Fed's statement may also discuss potential risks from rising trade tensions. But it is almost certain the statement will not acknowledge the recent criticism lodged at the central bank from President Donald Trump.
The Fed has already raised rates two times this year in March and June. It signaled at the June meeting that it expected to raise two more times in 2018. Many analysts believe those hikes will occur in September and December.
The March and June rate hikes followed three hikes in 2017 and one each in 2015 and 2016. The Fed's key policy rate is now at a still relatively low level of 1.75 percent to 2 percent. But it's up from the record low near zero where it remained for seven years as the central bank worked to use ultra-low interest rates to lift the economy out of the Great Recession.
The string of quarter-point rate hikes is intended to prevent the economy from overheating and pushing inflation from climbing too high. But higher rates make borrowing costlier for consumers and businesses and can weigh down stock prices. Trump has made clear he has little patience for the Fed's efforts to restrain the economy to control inflation.
"Tightening now hurts all that we have done," Trump tweeted last month, a day after he said in a television interview that he was "not happy" with the Fed's rate increases.
Over the past quarter-century, presidents have maintained silence in public about Fed actions, believing that lodging complaints would be counter-productive. That's because it could produce even faster rate hikes if the central bank feels the need to convince financial markets that it will not yield to political pressure and allow inflation to rise to worrisome levels.
Following Trump's comments, Treasury Secretary Steven Mnuchin tried to strike a reassuring note that the White House doesn't want to interfere with the Fed's policymaking.
"We as an administration absolutely support the independence of the Fed, and the president has made it clear that this is the Fed's decision," Mnuchin said on "Fox News Sunday."
At the moment, economic growth is strong, rising at an annual rate of 4.1 percent in the April-June quarter, the best showing in nearly four years. Unemployment is at a low 4 percent, and some analysts believe it will fall further when the government releases the July figures on Friday.
But there are worries as well, led by fears of what a Trump-led trade war might do to growth in the United States and around the world.
Many analysts believe that the possible harm from rising tariffs was a key discussion topic this week, although it may not show up in the Fed's policy statement.
Delivering the Fed's semi-annual report to Congress last month, Powell refrained from criticizing the Trump administration's effort to use the threat of tariffs to try to lower trade barriers. But Powell noted that the Fed was hearing a "rising chorus of concern" from business contacts about the harm a trade war could cause.
Powell hasn't publicly addressed Trump's criticism of Fed rate hikes. But the chairman had previously said in a radio interview that the central bank has long operated independently in making interest-rate decisions based on what was best for the economy and not in response to political pressure.