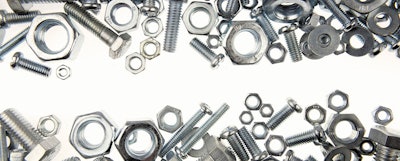 R.W. Baird and FCH Sourcing Network released their monthly Fastener Distributor Index (FDI) for April on Monday, showing a notable decrease last month, and its third straight decline overall.
The seasonally-adjusted April FDI showed a mark of 57.4, down from March's 59.5; February's 60.4; and January's 60.8. Since a recent peak of 62.2 in October 2017, the FDI has declined in four out of the past six months.
For all indexes, any reading above 50 indicates expansion, while any reading below 50 indicates contraction. So while April's 57.4 mark is still in solid expansion territory, there's been a notable slowdown in recent months.
The FDI's Forward-Looking-Indicator — aimed to provide a directional perspective on future expectations for fastener market conditions — likewise showed a seasonally-adjusted April mark of 58.9, down a point from March.
According to the FDI, 56 percent of respondents indicated sales were better relative to seasonal expectations, compared to 64 percent in March. The FDI's seasonally-adjusted sales index of 63.0 in April was another decline from 70.1 in March; 74.2 in February; and 82.0 in January; indicating weakened selling conditions.
Looking at other FDI metrics in April :
Employment index decreased to 59.4 from 62.5 in March
Supplier Deliveries index increased to 71.9 from 69.6 in March
Month-to-Month Pricing index decreased to 73.4 from 76.8 in March
Year-to-Year Pricing index increased to 89.1 from 84.7 in March
Respondent Inventories index decreased to 53.1 from 60.7 in March
Customer Inventories index increased to 37.5 from 35.7 in March
"Qualitative commentary on market conditions was very positive regarding demand, while steel tariff impacts remain a topic of heavy discussion among respondents," the FDI said. "The six-month outlook remains strong overall, while the Forward-Looking Indicator was down slightly m/m but still very healthy at 58.9."
See the full FDI April table below: