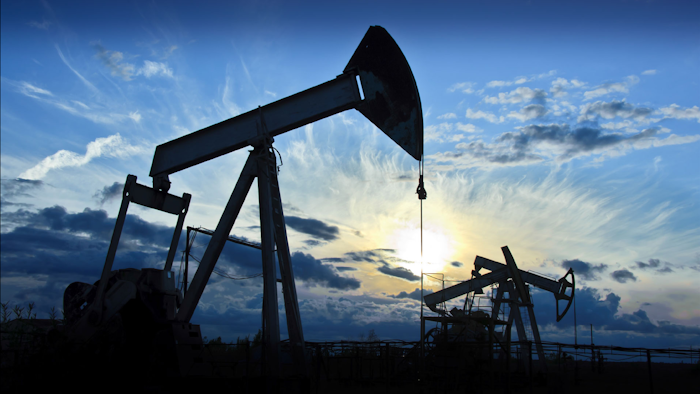 The U.S. active oil and gas rig count snapped a five-week losing streak last week by adding nine, while the price of oil held steady overall.
The combined U.S. rig count had lost a combined 42 rigs over the previous five weeks, but added nine oil rigs as of Friday's rig count of 907 provided by oilfield services provider Baker Hughes. That was after a loss of 11 total rigs a week earlier to the lowest total since May 12 of this year (885).
Friday's count was up by 339 year-over-year (YoY) — or 59.7 percent. The oil rig count moved to 738, up 63.3 percent YoY. The gas rig count stayed idle at 169, up 47.0 percent YoY.
The U.S. miscellaneous fell by one to zero.
Of last week's combined rig count, Oklahoma added four New Mexico added four, while Alaska and Utah added one apiece. Texas lost two and West Virginia lost one.
Canada/North America
Canada's combined rig count gained 11 last week after gaining one the week before. The country's total rig count was at 203 as of Friday, up 27 YoY, or 15.3 percent. It added eight oil rigs and four gas rigs, with its 108 oil rigs now up by 19 and its 95 gas rigs up by eight.
Friday's North American combined rig count of 1,110 rose by 20 after falling by 10 and 15 the previous two weeks. It was up by 366 YoY, or 49.2 percent.
Oil Price Update
Other than a 1-day $1 spike on midday Wednesday, the price of WTI crude oil held mostly steady last week. Oil opened Monday, Nov. 6 at around $56.00 and rose to $57.73 on Tuesday before falling to as low at $56.59 late Wednesday morning. It then spiked rapidly to $57.81 right after — its highest mark since July 14, 2015 — before settling back to $56.62 a few hours later. It held steady until another solid rise late Thursday morning to $57.73 and remained above $57 until falling to $56.59 midday Friday and closed the workweek at $56.90.