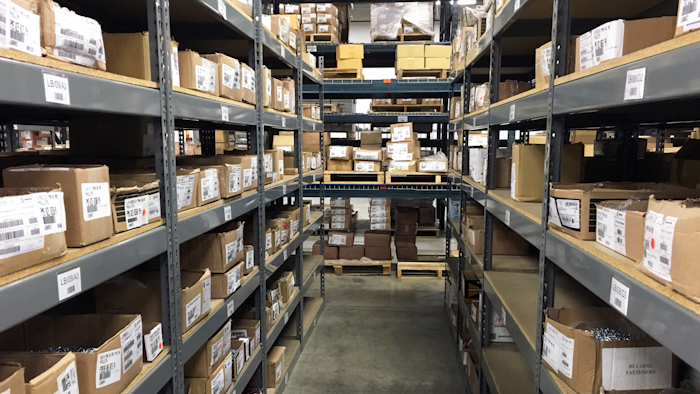 The Industrial Supply Association's Distributor and Manufacturer Indexes showed mixed results in September, with the surging Distributor index ticking up higher and the Manufacturer Index taking a modest decline.
The Distributor Index increased 1.2 percentage points in September to a reading of 72.4 — its highest mark since September 2014 (76.8). That follows an August 10.1-point jump.
ISA's Manufacturer Index followed a 10.8-point August spike by falling 3.9 points in September to a mark of 63.3. It was the fourth time in five months its reading was at least 63.3.
Those two indexes follow the Institute of Supply Management's September Purchasing Managers Index (PMI) reading of 60.8 percent — which jumped 2.0 points from August to its highest reading since May of 2004. The PMI is widely considered a good indicator of the overall manufacturing economy and has much smaller month-to-month fluctuations than ISA's indexes. It was the highest PMI reading since April 2011's mark of 58.9.
For all three indexes, a reading above 50 indicates expansion, while anything below 50 indicates contraction. Thus, the ISA indexes indicate continued strong expansion for both industrial distributor and manufacturers, with distributors at an even faster rate than a month earlier while supplier expansion slowed slightly. Meanwhile, the overall U.S. manufacturing economy continues to grow as of early October.
While the Distributors Index indicated that sales revenue, employment and anticipated new orders were down compared to August, other key factors of current new orders and anticipated business conditions saw solid gains.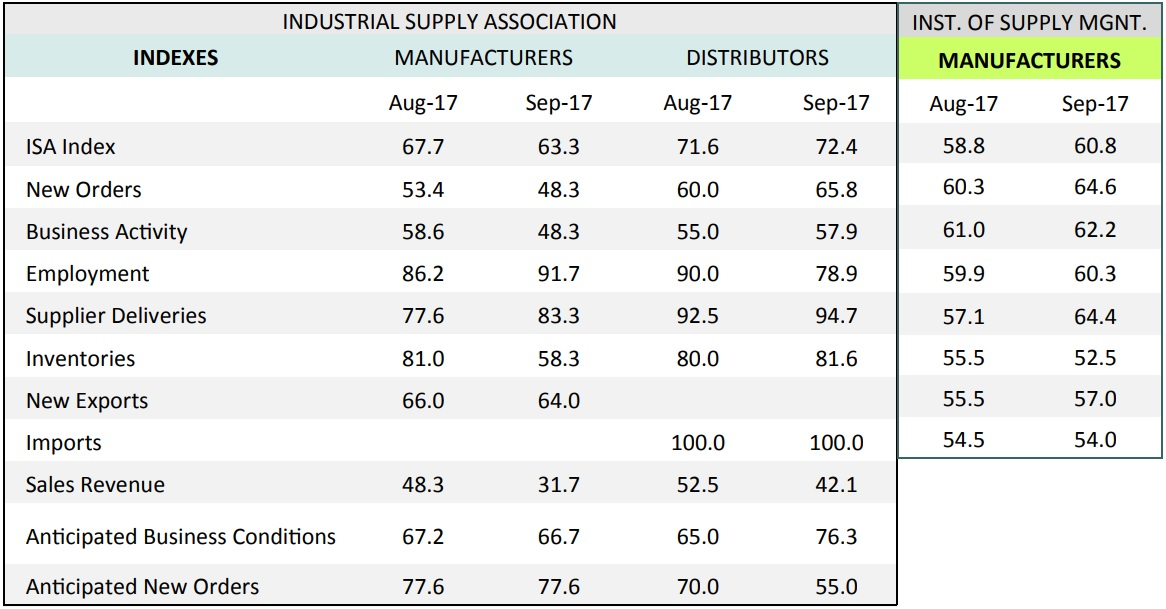 The only two distributor comments in ISA's October Economic Indicator Report were mixed:
"Starting to see a slow down in many areas."
"Was an exceptionally strong month considering only 20 business days."
Meanwhile, here's some from the much larger collection of manufacturer comments:
"Great month. Highest daily sales average in 2 years. Up 4% YTD but 3rd quarter was by far the best."
"September looks like more activity than the summer doldrums of July and August. Hopefully fourth quarter can down some of YTD drop from last year."
"Again, though Sept numbers were above avg., their inconsistency and inability to sustain any sense of momentum, leaves us with the feeling of "what's next"; and employees feeling that we're not keeping up with others as the media mania blitz leads all to believe the economy is flourishing....yet we've yet to get this feeling."
"Still riding the roller coaster of inconsistent orders. However, we continue to win better than 40% of what we quote."
"We are on track for our best year ever in nearly 100 years of doing business."
"August and September were better than expected. Let's see if we can have a strong close to the year which would put us up 4.5 to 5% over 2017."
"It's been a rough year, but we are thinking we can finish strong."