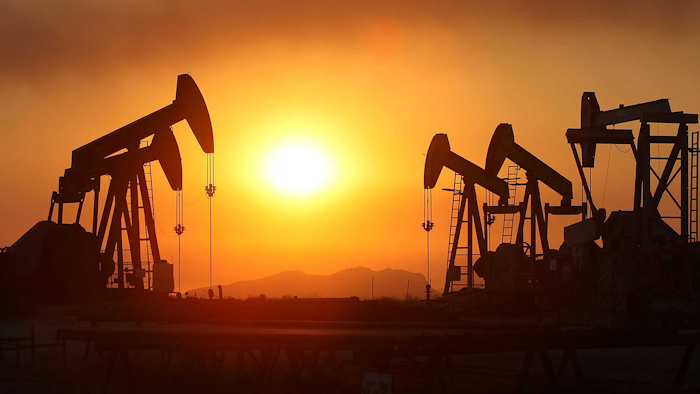 If there was any doubt that the U.S. rig count's recent struggles have been just a minor bump in the road, that doubt was erased Friday. The latest rig count from oilfield services provider Baker Hughes showed that the U.S. lost a combined 15 rigs this past week.
That's by far its biggest one-week drop of the count's consistent slide that began in early August, and the current count of 913 is now at its lowest mark since May 26 of this year (908).
Friday's count was up 360 year-over-year (YoY) — or 65.1 percent. That figure has steadily declined over the past 12 weeks. It was up 72.2 percent a week earlier. The overall count (combining oil and gas rigs) has declined by 45 since peaking at 958 on July 28  — back when it seemed destined to hit 1,000 after increasing nearly every week for 14 months after bottoming out at 404 in May of 2016.
Last week's oil rig count slid by seven to a mark of 736 — its lowest mark since June 2 and up 66.1 percent YoY. The U.S. lost eight gas rigs, with its count falling to 177 and up 63.9 percent YoY.
The U.S. miscellaneous remained at zero.
Of last week's combined rig count, Texas lost eight, Alaska and Wyoming each lost a pair, while New Mexico and Utah lost one apiece. No state gained a rig.
Canada/North America
Canada's combined rig count also had a notable decline this past week, losing five oil and gas rigs apiece. The country's total rig count decreased to 202, which is up 41.3 percent year-over-year, with its 107 oil rigs up by 38 and its 95 gas rigs up by 21.
Friday's North American combined rig count of 1,115 was down a whopping 25 from a week earlier. It is up by 419 YoY, or 60.2 percent.
Oil Price Update
The price of TWI Crude oil held mostly steady throughout this past week before closing it with a slight decline. Oil opened Monday, Oct. 16 at $51.88 and remained near there until falling to $51.36 on Tuesday morning. It rallied to close Tuesday at $52.30 and continued to climb to a week-high of $52.45 on Wednesday morning — its highest mark since April 18 of this year ($53.11). Oil then fell to a Thursday close of $51.67 and as low as $50.92 early Friday morning before rallying to $51.94 by late Friday afternoon.