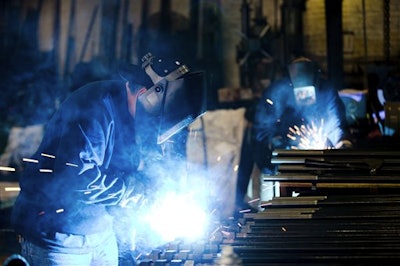 WASHINGTON (AP) — U.S. manufacturing output rose in October for the first time in three months as factories cranked out more steel, cars and computers.
Manufacturing production increased 0.4 percent last month, the Federal Reserve said Tuesday, after slipping 0.1 percent in September.
The rise suggests that manufacturers may be overcoming several headwinds they have faced for most of this year. Many retailers and wholesalers have been cutting back on their stockpiles after ordering too many goods this winter. That has weighed on output. And the strong dollar has cut into exports by making U.S. goods more expensive overseas.
Steady consumer spending is likely helping offset those drags. Auto sales jumped 14 percent in October, putting the industry on track for what could be a record year. Ford Motor Co. estimates that total car sales may reach 17.4 million, slightly above the previous record of 17.35 million in 2001.
Many other sectors reported gains, including machinery, electrical equipment, and textiles.
Overall industrial production, which includes mining and utility output, fell 0.2 percent, after dropping by the same amount in September. Mining production fell 1.5 percent, dragged down by cutbacks in oil and gas drilling. Utility output plummeted 2.5 percent, largely because of warmer-than-usual weather.
Other data has also suggested factories may be picking up a bit. The Institute for Supply Management, a trade group of purchasing managers, said earlier this month that its measure of production in October rose for the first time since July.
And a gauge of new orders received by U.S. manufacturers rose strongly, the ISM said. That suggests output should keep rising in the coming months.