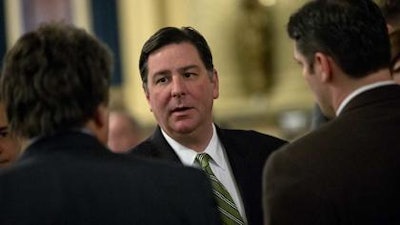 Mayor Bill Peduto issued an executive order Tuesday raising all city employees' minimum wage to $15 an hour by the year 2021, a move that comes as a handful of large U.S. cities have enacted or moved toward a $15 minimum wage.
Peduto's order doesn't raise the minimum wage of non-city employees who work in Pittsburgh, though it does call for City Council to draft legislation next year requiring city contractors to eventually pay their workers $15 hourly or face city-imposed penalties.
Currently, about 300 of the city's 3,100 workers make less than $15 hourly, Peduto said.
"Current rates of pay for too many workers nationwide — and within our city — do not provide enough to raise a family, own a home and be part of the American Dream," he said.
The lowest paid city workers are entry-level garbage truck drivers who earn $11 an hour, Peduto spokesman Timothy McNulty said.
Under the mayor's order, the minimum wage for city workers will rise to $12.50 in 2017 and $13.75 in 2019 before hitting the $15-mark two years later.
The increase will cost the city $150,000 in 2017, when it's first implemented. The amount for future years is still being studied, McNulty said, which is why Peduto instructed the city's Office of Management and Budget to issue policies by Jan. 1 on how the order will be implemented.
"We don't have the breakdown yet on how it will affect each job," McNulty told The Associated Press. As just one example, he said, some workers already make more than the $12.50 minimum wage that begins in 2017 or the $13.75 that begins in 2019, yet still make less than $15.
Philadelphia Mayor-elect Jim Kenney, who takes office in January, wants to raise that city's minimum wage to $15, too.
So far, Los Angeles, Seattle, San Francisco and the California cities of Oakland and Berkeley have approved phased-in increases that eventually will take their minimum wage to $15 an hour, or about $31,200 a year.
The administration of New York Gov. Andrew Cuomo, who, like Peduto, is a Democrat, sidestepped lawmakers and approved a phased-in $15 minimum wage that affects only employees at chain fast-food restaurants. Now, New York lawmakers are considering whether to extend the $15 minimum to all industries. New York's minimum wage is $8.75, but it is set to rise to $9 at the end of the year.
Los Angeles has approved increasing the city's minimum wage from $9 to $15 by 2020, and San Francisco residents last November voted to raise the city's minimum wage from $10.74 to $15 by 2018. The graduated increase has already bumped San Francisco's minimum wage to $12.25.
Buoyed by those successes, the Service Employees International Union is pushing for a ballot initiative to boost the California's $9 minimum wage to $15 by 2020.
Pennsylvania still abides by the national minimum wage of $7.25.