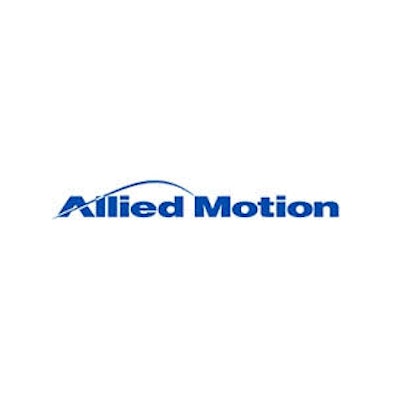 AMHERST, N.Y. — Allied Motion Technologies Inc. (NASDAQ:AMOT) on Wednesday announced net income increased 394 percent year-over-year to $4,115,000 or $0.45 per diluted share for the quarter ended Sept. 30. Revenues for the quarter increased 162 percent to $65,280,000, compared to $24,876,000 last year with sales to U.S. customers up 233 percent and foreign sales up 81 percent. Bookings for Q3 2014 were $66.7 million, compared to $25.0 million for Q3 2013 or an increase of 167 percent. Backlog in Q3 2014 was $80.9 million compared to $27.5 million in Q3 2013, a 194 percent increase.
"We are very pleased with the record results for the third quarter 2014 as they once again validate our previous comments that we expected our revenues for 2014 to more than double relative to Allied's 2013 pre-acquisition revenues and for the Globe acquisition to be accretive to earnings," commented Dick Warzala, Chairman and CEO of Allied Motion. "... Also, on a year to date basis, we experienced growth in our served markets of Aerospace and Defense, Medical, and Vehicle, while our Industrial and Electronics markets were flat. With the acquisition of Globe Motors in late 2013, the current year has truly been transformative for Allied Motion and in late September, we updated our long term strategy and set new goals and objectives to continuously grow and improve our profitability in the future."
Year-to-date, the company achieved net income of $8,956,000 compared to net income of $2,612,000 for the same nine months last year. Revenues increased 149 percent to $187,784,000 compared to $75,371,000 last year with sales to U.S. customers up 209 percent and foreign sales up 82 percent. The total 149 percent increase in sales was due to sales volume, the impact of foreign currencies was minimal.
Bookings for the first nine months this year were $194.6 million compared to $69.5 million for the same period last year or an increase of 180 percent.
Headquartered in Amherst, NY, Allied Motion designs, manufactures and sells motion control products into applications that serve many industry sectors. Allied Motion is a supplier of precision and specialty motion control components and systems to a broad spectrum of customers throughout the world.